The following items will be in place for each 8' x 10' space provided upon your arrival at the Renaissance Center Marriott, Detroit (exhibitors requiring items not listed below may order such items directly from the suppliers detailed in the Exhibitors''Service Kit and listed below).
One (1) 8' deep x 10' wide draping (back drape 8' high, side drape 36" high)
Drape color is blue and white
Carpet provided is hotel carpet already in the foyer
One (1) padded chair
One (1) wastebasket
One color company name sign
Wireless internet will be available in the Exhibitor area.
Note: Vendors requiring electrical, lighting, additional carpeting, additional furnishings or other items, should use the "Official Show Supplier List" for information OR place an order with the forms located at http://www.iscb.org/ismb2005/exhibitor_res.html.
Freeman Decorating has been appointed the official Exhibition Service company for ISMB 2005.
Additional items: furniture, floral, carpet, graphics, or lighting can be ordered on-line from the exhibition company, Freeman Decorating. Vendors who wish to use the on-line facility should click on the on-line ordering button when entering the website then select "ISMB 2005" from the drop down menu. Vendors will be required to register to use this facility.
A hard copy of the service kit for these items will be available March 2005. Freeman will staff a service desk on-site during build and breakdown to assist exhibitors with all services. NOTE: ISMB recommends that all orders for additional booth materials be placed prior to deadlines listed on the order forms. On-site orders will incur substantially higher charges.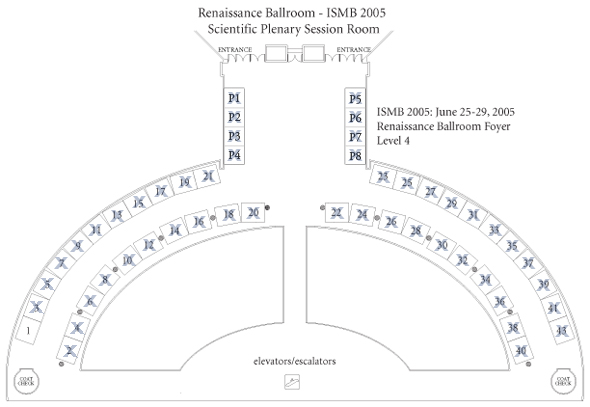 Click on the image to access the exhibitor map
The exhibition will take place in the Renaissance Ballroom Foyer at the Renaissance Center Marriott Hotel (see image ->)
The Exhibitor schedule is provided to allow exhibitors to schedule their time. All booths must remain set up throughout the show open hours as listed at http://www.iscb.org/ismb2005/exhibitor_schedule.html
ISMB Conference Schedule: http://www.iscb.org/ismb2005/at-a-glance.html
For accommodation information, visit the housing website at
http://www.iscb.org/ismb2005/housing.html
. ISMB has secured a block of discounted rooms at the main hotel, the Renaissance Center Marriott, Detroit. We encourage participants to book rooms at the Renaissance Center Marriott for the convenience of staying in the hotel where the conference is located.
All exhibitors must register with the Conference Registration Desk to receive an official ISMB 2005 conference name badge. The badge will be required for admission to the Exhibition Hall. A special "private" registration site will be set up for exhibiting companies to register their personnel. We will send under separate cover a notice with instructions on how to register. If you have not received the URL and instructions for badges by April 1, 2005, please contact Stephanie Hagstrom
shagstrom@iscb.org
to obtain the instructions.
Coffee breaks and receptions will not be included with the conference registration this year. Lunch packages may be purchased on the registration system that will be sent to each exhibiting company. A lunch package will include daily lunch Sunday through Tuesdayand will cost $90.00. Vendors who wish to have food and beverage in their booth, you may do so by contacting the Hotel Catering Department.
No nails, screws or other fixtures may be driven into any part of the Premises including the floors. Nor may any part of the Premises be damaged or disfigured in any way. Should any damage occur, the Exhibitor will be invoiced for reparation charges incurred.
Demonstrations and other special activities must be located so that crowds will be comfortably contained within the contracted display space and not blocking any of the aisles. Distracting activities are subject to adjacent exhibitor and ISMB approval. Exhibitors may not play loud music on their stand.
Exhibitors employing contractors other than Freeman Decorating to build or breakdown their stand must complete the Exhibitor Appointed Contractor (EAC) form through Freeman Decorating. Exhibitors must inform the EAC that they must abide by all rules and regulations of the show and not solicit business on the Exhibit floor. EAC's are not exhibitors and must wear their designated badges at all times. An insurance certificate from this EAC showing general liability coverage is also required.
Exhibitors are allowed access to their stands during set up and tear down hours as well as one hour prior to and one hour after official opening hours. Exhibitors requiring access beyond these times, must receive approval from an ISMB representative at the Exhibition Registration Desk.
Helium ball are not permitted in the Detroit Marriott Renaissance Center.
It is understood that the exhibitor assumes entire responsibility for and agrees to protect, indemnify, defend and save ISCB, ISMB, the Renaissance Center Marriott - Detroit, and their respective consultants, agents, directors, employees, licensees and assigns them harmless from and against all claims, losses and damages to persons or property, governmental charges of fines and attorney's fees arising out of or caused by exhibitor's installation, removal, maintenance, occupancy or the use of or part thereof negligently or otherwise, excluding any such liability caused by the sole negligence of ISCB, ISMB, Renaissance Center Marriott - Detroit or its employees and agents.
Proof of insurance must be provided upon request. Exhibitors are to have a rider on their current insurance policy to cover loss of, theft of or damage to their exhibit or other personal property while it is located at or is in transit to or from the Renaissance Center Marriott - Detroit. The exhibitor shall indemnify the Renaissance Center Marriott - Detroit, Freeman Decorating, ISCB, and ISMB against, and hold it and its representatives harmless from complaints, suits or liabilities resulting from negligence of the exhibitor in connection with the exhibits use of display space. The Renaissance Center Marriott - Detroit, ISCB, and ISMB shall have no liability for loss, damage or theft, through any cause, of goods, hand carried items, exhibits, or other materials owned, rented or leased by the exhibitor. Personal effects, souvenir handouts and other small, easily removed valuable items should not be left unattended. In no event shall ISCB, or ISMB have any liability for incidental, consequential, special, indirect or punitive damages for any harm arising from, or related to, the use of exhibit space under the contract agreement.
Leaflets may not be distributed from anywhere other than the exhibition stand without receiving prior permission from the Organizers. Leaflets displayed or distributed at any other point throughout the venue, without prior permission, will be removed and destroyed by the Organizers.
Detroit's Renaissance Center Marriott parking is $15.00 per day for self parking.
ISCB/ISMB will provide security in the exhibit area during all off-hours (including lunch time), and will take reasonable precautions to safe guard exhibitor's property. Exhibitors are encouraged to remove any valuable items from the exhibit area each evening.
The Renaissance Center Marriott, Detroit is unable to store equipment or materials in advance of the conference. Please contact Freeman Decorating Company to assist with storage of equipment and materials.
The Marriott Hotel will accept deliveries to the site on Friday, June 24 and Saturday, June 25 only. These will be received and handled by the teamsters at the Marriott and exhibitors will be billed for handling by Freeman Decorating Company. Any deliveries prior to this date will not be accepted and should be sent to Freeman Company (See advance warehouse shipments above). Please be advised that neither the Organizers nor the Marriott can accept deliveries on an exhibitor's behalf and arrangements must be made for a stand/company representative to be available when deliveries are made.
For Shipments prior to June 24, contact Freeman Decorating.
Deliveries made on June 24 or June 25 ONLY:
All deliveries should be addressed as follows:
Exhibitor's Name/Stand Number
ISMB 2005
c/o Renaissance Center Marriott, Detroit
Renaissance Center
Detroit, Michigan 48243
USA
Phone: 1-313-568-8000
Fax: 1-313-568-8146
The Renaissance Center Marriott, Detroit has exclusive rights to all catering in the premises and are the official suppliers for all catering services within the Marriott. Exhibitors/sponsors are not permitted to supply their own food and drink without prior, written, consent from the Renaissance Center Marriott, Detroit. The Renaissance Center Marriott, Detroit supplies a comprehensive range of hot and cold beverages and snacks and the appropriate equipment hire.
Excess stock, literature or packing cases may not be stored on, around or behind stands. Renaissance Center Marriott, Detroit does not have any storage facility for materials left on site outside of tenancy times. Any items/materials left at the end of the tenancy will be thrown away and a charge made to the individual exhibitor/contractor concerned.
Exhibitors requiring off-site storage facilities please contact the freight forwarding company, Freeman Decorating Company.
The ISMB 2005 trade exhibition will be held in the Renaissance Ballroom Foyer of:
Renaissance Center Marriott, Detroit
Renaissance Center
Detroit, Michigan 48243 USA
Phone: 1-313-568-8000
Fax: 1-313-568-8146