An abbreviated offering of attractions is listed below, for a more comprehensive listing, visit http://www.visitdetroit.com
Arctic Ring of Life exhibit at the Detroit Zoo
Check out the largest underwater polar bear exhibit at the Detroit Zoo, just outside of Detroit in downtown Royal Oak. It was one of the first zoo's to not have their animals in cages but are separated by large moats!
Detroit Tigers
April-Sept. It's a whole new ballgame at Comerica Park with the recent signing of 10-time All Star catcher and World Series hero Ivan "Pudge" Rodriguez. Game tickets, group rates, package deals and more available through Ticketmaster or at (248) 25-TIGER.
The Detroit Institute of Arts
The fifth-largest fine arts museum in the country, offering over 100 galleries with art from ancient to modern times. Among the DIA's renowned works are French Impressionist, German Expressionist, American and Flemish paintings.

Accessible by a bridge at the foot of East Grand Boulevard, this 1,000-acre island park features a zoo, aquarium, conservatory, Great Lakes museum and plenty of room to hike, barbecue, watch boats, bicycle and more. Original landscaping by the Dean of American landscape architects, Frederick Law Olmstead. Daily 6am-10pm.
Detroit, MI 48207
Phone: 313-852-4078
Fax: 313-852-4074
The Henry Ford Museum and Greenfield Village
The Henry Ford brings the American historical experience to life. See JFK's limo, Rosa Parks' bus and thousands of uniquely American innovations at the museum. Greenfield Village features 90 historic buildings, period presenters and artisans. IMAX theater open daily. Ford Rouge factory tour begins spring 2004. Hours of Operation: Open seven days a week 9:30 am-5 pm. Closed Thanksgiving and Christmas Days. Extended evening hours in Greenfield Village, Jun. 18-Aug. 21, Fri.-Sat. until 9 pm.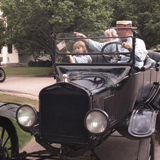 Automotive Hall of Fame is a museum for the worldwide motor vehicle industry. Activities include applying for a job and safety and power demonstrations. Other highlights include an exhibit featuring Andy Granatelli, Richard Petty and Carroll Shelby and a store. Daily 10-5. Nov. - April closed Mondays Closed some holidays. $6.00 adults, $5 seniors (62 and over) $3.00 ages 5-12. Under 5 free; Tour groups of 15 or more $4. Free Field trips for school groups! The Automotive Hall of Fame is the public program and exhibition center for the worldwide motor vehicle industry.
Henry Ford Estate
Tour the family home of automotive pioneer Henry Ford and his wife, Clara, in Dearborn. Explore the fascinating riverside Powerhouse, including Mr. Ford's personal garage and cars. See giant generators placed by Henry Ford and Thomas Edison which still generate electricity today. Travel the underground tunnel to the 56 room stone mansion built in 1915, appointed with elaborate carved woodwork and many personal artifacts. Enjoy a guided tour and acres of Jens Jensen landscaped grounds and waterscapes. Unique gifts available in the Estate Shop. Banquet and conference facilities. Lunch served daily in the Pool Restaurant. MC, V. Tours: Sun. 1-4:30p.m. every half hour year-round Mon.-Fri. 1:30 p.m. during Jan.-March; Mon.-Sat.. 10a.m.- 11a.m., 1p.m., 2p.m. and 3p.m. during April-Dec.
Greektown
People call Greektown Detroit's entertainment center. It's the liveliest place downtown. Monroe Street is packed with authentic Greek, American and ethnic restaurants, boutiques, nightclubs and more. Historic sites, hotel and banquet facilities and casino gaming add to the mix "Opa!."
Motown Historical Museum
Long known as "Hitsville USA," the museum is home of the world-famous Studio A, where the Temptations, Marvin Gaye and countless others recorded with the Funk Brothers. Group rates available for 20 or more visitors. Hours of Operation: Closed Sun.-Mon., Tue.-Sat. 10 a.m.-5 p.m. Credit cards accepted: Master Card, Visa
Detroit Historical Museum
The Detroit Historical Museum in Downtown allows visitors the chance to tour the scope of the city's history, from Antoine de la Mothe Cadillac's landing on the banks of the Detroit River through the city's emergence as an industrial capital. In the museum it is possible to walk through the streets of Old Detroit and explore 19th-century shops. Visitors can also find out about Detroit's role in the 'underground railroad' that helped slaves escape from the South. The interactive Glancy Trains toy train exhibit delights young and old. Hours of Operation: Tue.-Fri. 9:30 a.m.-5 p.m., Sat. 10 a.m.-5 p.m., Sun. 11 a.m.-5 p.m.
Ann Arbor, Michigan
Ann Arbor, located just 40 miles west of Detroit, is the home to the University of Michigan, one of the country's top universities. The city and surroundings has a great deal to offer visitors in the form of historic and cultural attractions. Ann Arbor's downtown area is extremely vibrant with never a dull moment, from live music shows to a plethora of libraries, galleries and museums, restaurants offering everything from romantic dinners to café society, some of the country's best bookstores and often a street party.