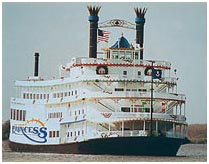 Join your colleagues for a fun filled evening aboard the Detroit Princess Riverboat. The Gala dinner is open to all ISMB 05 delegates and family members.
This elegant dinner cruise boat comes equipped with dance floors and bars on each of its 4 decks. The cruise on the Detroit River offers grand views of the Detroit and Windsor (Canada) skylines.
This sure to be memorable event will start even before you board the Princess, as guests will be greeted by a Dixie Band right at the entrance. The Princess offers many entertainment options while you hop on board. In addition to the scenic ride, you will be able to sample Michigan themed food from the buffet, and choose from 3 entertainment options:
Deck 1: Musical Revue
The Detroit Princess' Signature Musical Revue show is custom designed to feature music of the Roaring 20's and the sentimental 30's & 40's. It also takes us back to the bobby sox days of the 50's & 60's highlighting the bop & be-bop sounds of that era. The performance concludes with a musical tribute to Detroit's own great Motown music of the 60's.
Deck 2: Disc Jockey
A DJ will be ready to take your requests for some serious dancing!
Deck 3: Jazz/Easy Listening
For those of you who would like some quiet time on the boat and enjoy conversation.
For more information on the Detroit Princess Riverboat: http://www.detroitprincess.com/

Location: The Detroit Princess Riverboat will depart from Heart Plaza at 7:00pm. Volunteers will be available at the Winter Garden Entrance of the Renaissance Center to guide delegates to Heart Plaza.
Things to bring: In accordance with Homeland Security policies ALL guests must provide proper valid identification upon boarding The Detroit Princess.
Acceptable Identification: Primary identification is government issued with a photo, for example, a valid state or provincial driver's license, a valid passport, Canadian Citizenship card, military identification, official government identification or age of majority card. (NOTE: ALL PRIMARY IDENTIFICATION MUST HAVE A PICTURE AND SIGNATURE ATTACHED).
Cost: $75 per ticket
To purchase tickets for the dinner cruise if you previously registered contact: registration05@ismbconf.org