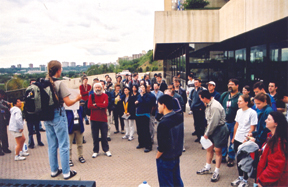 Join us for the ISMB/ECCB 2004 Orienteering Ice Breaker!
Saturday, 31 July 2004: 15:00 - 17:30
In this activity, you and your team will have one hour to find control locations in Glasgow using a map and (optionally) a compass. For the nerdly amongst you, this is the NP-complete Prize Collecting Traveling Salesman problem, which has a respectable and fascinating literature, as well as mostly untapped applications in bioinformatics. This is a fun activity for all, and you can approach it as a gentle walk in the park with your family, or a chance to compete against your colleagues. All ages welcome; under 18 must be accompanied by an adult.
Things to bring: a compass (optional), walking or hiking shoes, appropriate outdoor gear for the weather.