Travel Information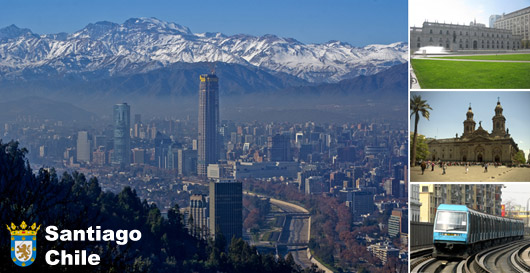 CLICK HERE TO GO WWW.CHILE.TRAVEL: SANTIAGO
All international flights to Santiago will arrive to "Arturo Merino Benitez" airport (airport code is SCL). All major airlines have direct flights to Santiago from major cities in Latin America (Buenos Aires, Sao Paulo, Río de Janeiro, Montevideo, Lima, Bogotá, Quito, Caracas and Mexico City). From Europe, there are direct flights to Santiago from London, Paris, Madrid and Frankfurt. From the US, there are direct flights to Santiago from New York, Dallas, Los Angeles, Atlanta and Miami.

The airport is connected to the city by a highway. It takes about 35 minutes by car to get to the suggested hotel area in "El Golf" neighborhood (if it is rush time, in a week day, it can take between 45 min to 1 hour maximum).

The best way to reach the city from the airport is by cab. It is recommended to hire only the official cabs (the fare is about US$ 35) right after the custom control (just before exiting the controlled airport area).

Alternatively, there is a bus that will drop you at the central bus station near downtown, right next to the subway station "Pajaritos" in the Line 1 (red). From there, you should take the direction "Los Domínicos" to reach the suggested hotel area and to get off at "El Golf" station (about 25-30 min ride). The bus fare is about US$ 4. The subway fare for a single ride is between US$ 1 and US$ 1.5, depending on the time of the day.
The subway in Santiago is closed between 11:30 pm and 6:30 am. Therefore, if you arrive in that period, the only option is to take a cab.

Currency

The currency in Chile is the Chilean peso (CL). US$ 1 is about CL$ 480. EU$ 1 is about CL$ 640. These conversion rates may fluctuate in the range of 5-10%. All major credit cards are generally accepted (Visa and Mastercard are the most popular). Most of ATMs in Chile are compatible with Maestro and Cirrus (check the logo in the back of your debit or credit card). It may be more convenient to get money in an ATM machine than in currency exchange booths at the airport. There are many ATM machines inside the airport and a couple of machines just after exiting the controlled airport area (you must walk a few meters to the right, after exiting the customs).

VERY IMPORTANT NOTICE: Chile is a country free of many agriculture pathogens. Therefore, there is a very strict control by the customs (ie. all your belongings will pass through x-ray check points). If you bring any food, wood or beverages that were acquired outside Chile you must declare them in the custom form. If not, you can risk expensive fines and a lot of time wasted at the customs before being able to leave the airport.

S.O.S.

If it happens that you run into serious trouble upon arrival (loss of documents, money, etc), call to the cell phone of the Chair of Conference (Francisco Melo) from a public phone at: 9732 1374 (at any time). In that situation you may need to beg for a coin to someone at the airport to make the call ... (or contact representatives from your airline). However, Chilean people are very charming thus that should not be a problem at all ...