ISCB-LA / X-meeting / BSB / SoIBio 2014
Belo Horizonte
---
Locations of interest in Belo Horizonte - MAP
The Venue
Here is a
map
of the
UFMG
Campus.  The main auditorium will be CAD1, accross from the World Cup Soccer Stadium.  The second auditorium for the breakout sessions will be Auditório 3 at the Biology Institute - ICB, accross the street from CAD 1.  Coffee break, poster sessions and sponsor booths will be located on the ground floor of CAD 1.
CAD 1 Auditorium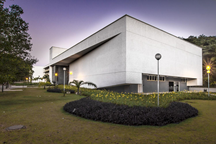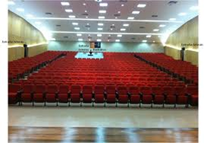 About Belo Horizonte
Flying into town.  Belo Horizonte is a hub for two of the main brazilian airlines, Gol and Azul.  People can reach the city form anywhere in the country with no stops or at the most one stop.  There are two airports in town, Pampulha, right next to the University for short flights and the international airport of Confins.  International flights arrive directly in Belo Horizonte from Panama, Miami and Lisbon.  This will enable visitors from the US or Europe to reach town with one stop in most cases.
Weather in October is mild in Belo Horizonte.  For October the temperature will fluctuate between 65oF-83oF.  Sunshine is expected for just 12h per day.  Rainfall is just average between the driest in July and wettest in December.  For detailed climate information visit this web site.
Hotels around the venue
There are over 12 hotels nearby.  The map indicates some of these hotels.  Prices will range from ~100USD to 60 USD for individual rooms.  The fast bus service that just opened to downtown facilitates transit to town where many hotels are available.
At the moment we have discount agreements with two hotels:
1 - San Diego Suites Pampulha
2 - Pampulha Flat
3 - Fino da Bola Hostel (if you want to have it cheap!)
Things to do around Belo – some tips