Casablanca
The Grand Casablanca region is considered the locomotive of the development of the Moroccan economy. Almost the entire Casablanca waterfront is under development, mainly the construction of huge entertainment centres between the port and Hassan II Mosque, the Anfa Resort project near the business, entertainment and living centre of Megarama, the shopping and entertainment complex of Morocco Mall, as well as a complete renovation of the coastal walkway. The Sindbad park is planned to be totally renewed with rides, games and entertainment services.
Casablanca is located in the Chawiya plain which has historically been the breadbasket of Morocco. Apart from the Atlantic coast, the Bouskoura forest is the only natural attraction in the city. The forest was planted in the 20th century and consists mostly of Eucalyptus, Palm and Pine trees. It is located halfway to the city's international airport.
The only watercourse in Casablanca is Oued Bouskoura, a small seasonal creek that until 1912 reached the Atlantic Ocean near the actual port. Most of Oued Bouskoura's bed has been covered due to urbanization and only the part south of El-Jadida road can now be seen. The closest permanent river to Casablanca is Oum Er-Rbia River 70 km (43.50 mi) to the south-east.
Casablanca has a very mild Mediterranean climate. Casablanca's climate is strongly influenced by the cool currents of the Atlantic Ocean which tends to moderate temperature swings and produce a remarkably mild climate with little seasonal temperature variation and a lack of extreme heat and cold . Casablanca has an annual average of 74 days with significant precipitation, which amounts to 427 millimeters per year. The highest and lowest temperatures ever recorded in the city are 41.6 °C and −2.7 °C, respectively.
Discover Casablanca
The Hassan II mosque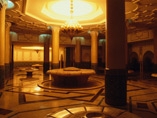 Visible from afar - whether by Land Sea or air, - the great Hassan II mosque was inaugurated on August 30, 1993. The prayer hall can fit in a congregation of 25000 and its esplanade 80000. The prayer hall can become a patio in 3 minutes thanks to its retractable roof. Its 200m high minaret makes it the highest religious building in the world. This architectural gem is open to non-Muslims outside prayer time.