Great Lakes Bioinformatics Conference 2012
Call for Oral Presentation Abstracts
Updated May 03, 2012
Call for submissions of Oral Presentation Abstracts is now closed. Submissions for Poster Abstracts still available until March 15, please click here if you would like to submit a poster abstract. Please contact This email address is being protected from spambots. You need JavaScript enabled to view it.

---
The GLBIO 2012 Conference invites the submission of abstracts for 15-minute research oral presentation.
KEY DATES
Jan. 20, 2012
Call for Oral Presentation Abstracts Closes
Mar 2, 2012
Acceptance Notification for Oral Presentations

Apr 6, 2012
Full Manuscripts (for proceedings) Due

May 15-17
GLBIO Conference, Ann Arbor, MI
Original oral presentation abstracts (including significant works-in-progress) are solicited in all areas that involve the application of advanced computational methods to significant problems in biology or medicine.

Solicited Topic Areas:
• Algorithm Development and Machine Learning
• Bioimaging
• Databases and Ontologies
• Disease Models and Epidemiology
• Evolution and Comparative Genomics
• Gene Regulation and Transcriptomics
• Mass Spectrometry and Proteomics
• Metagenomics
• Population Genomics
• Protein Interactions and Molecular Networks
• Protein Structure and Function
• Sequence Analysis
• Text Mining

How to Submit:
Participants interested in presenting at GLBIO are required to submit: (a) 250-word scientific justification (why this work fits with the GLBIO community), (b) 250-word abstract (this appears in the conference agenda), and (c) 1-page PDF summary of research to be presented (this will aid in the selection of high-quality oral presentations). Accepted oral presentation abstracts will be printed in the conference program and included on the conference website.
---
Conference Proceedings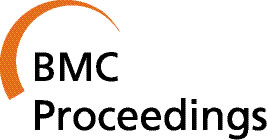 BMC Proceedings will publish the proceedings of the Great Lakes Bioinformatics Conference. Authors may elect to submit a (7-10 page) manuscript for consideration by April 6, 2012 (CLICK HERE for submission page).

The fee for publication is £680 (British Pound Sterling) and will be invoiced directly to each author by the publisher.

Following a full review, accepted manuscripts will move through the following publication timeline:

Manuscripts submitted for publication in the proceedings must be original (not already published elsewhere).

Please note the acceptance of the oral presentation does not guarantee publication of the manuscript; all submitted manuscripts will undergo a full peer review.

Manuscripts shall be prepared according to the "Instructions for preparation of manuscripts for publication in supplements to BioMed Central journals".

Instructions:
---
Conference Registration
GLBIO conference registration for accepted oral and poster presenters must be completed by May 4, 2012 to remain eligible to present at GLBIO. Payment of the conference registration fee is the responsibility of the presenter.