WELCOME TO ISCB-LA SOIBIO EMBnet 2018!

---
---
Online registration is now closed. We will have onsite registration available.

Need to know more about Vina del Mar and country information, check out the general information section.

Plan to join us for the fifth International Society for Computational Biology Latin America, SOIBIO and EMBnet Joint Bioinformatics Conference 2018 (ISCB-LA SOIBIO EMBnet 2018) will take place in Viña del Mar, Chile, on November 5 - 9, 2018.

The major aim of the ISCB-Latin America, SOIBIO and EMBnet Joint Bioinformatics Conference 2018 is to inspire and foster collaborations between regional scientists and students to advance research in the areas of Bioinformatics and Computational Biology. The scientific program showcases exceptional keynote speakers, original research scientific talks, and poster sessions.
ISCB-LA SOIBIO EMBnet 2018 will attract top regional and international scientists in the life sciences and offers a strong scientific program focused on scientific discovery in diverse subject areas through bioinformatics/computational biology. Topics of interest include sequence analysis, evolution and phylogeny, comparative genomics, protein structure, molecular and supramolecular dynamics, molecular evolution, gene regulation and transcriptomics, RNA biology, proteomics, systems biology, ontologies, biological networks, databases and data integration, text and data mining and information extraction, and human health.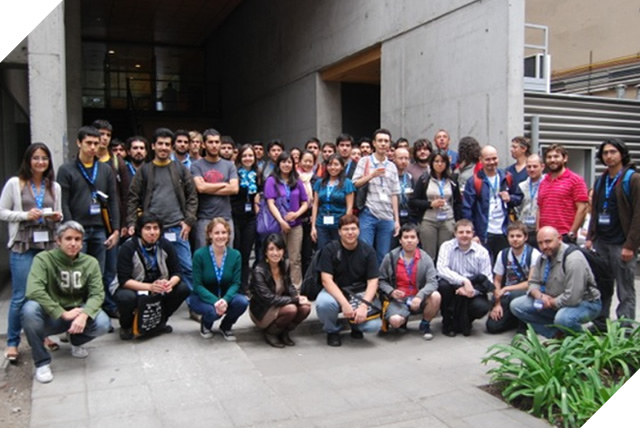 The scientific program includes abstract submissions so plan to submit to present your research. Plan to come to learn about the latest developments in the field, network with colleagues, and help shape the future of computational biology and bioinformatics in Latin America! This exciting biannual conference attracts over 300 researchers and students from around the globe. Abstracts of original research selected for presentation may be published in the ISCB Community Journal or another identified academic journal.

Need to know how to get to Vina Del Mar from Santiago? Learn more here!

---
Keynote Speakers

WENDY GONZALES, PhD
Center for Bioinformatics and Molecular Simulation
Universidad de Talca
Chile
DAVID HOLMES, PhD
Center for Bioinformatics and Genome Biology, Fundación Ciencia y Vida, Santiago, Chile
Universidad Mayor
Santiago, Chile
 
NIKOS C KYRPIDES, PhD
US Department of Energy
Joint Genome Institute
USA
ANA TEREZA RIBEIRO DE VASCONCELOS, PhD
National Laboratory of Scientific Computation – Bionformatics Laboratory
Petrópolis, Brazil
 
MORTEN SOGAARD, PhD
WRD Genome Sciences & Technologies
Pfizer
JANET THORNTON, PhD
DBE FRS FMedSc, ISCB Fellow
European Bioinformatics Institute
European Molecular Biology Laboratory (EBI-EMBL)
The EMBO Keynote Lecture
---
Recommended Hotels/Hostels
Atton San Martin
Spacious, pleasing guest rooms perfect for your comfort. With 1 King size bed, buffet breakfast included, free wifi, private bathroom, flat screen TV, air conditioning, work desk, facilities for disabled guest and safe deposit box. Non smoking room.
Link
Gala Hotel
Room with two rooms (Living and bedroom) with nice view to the north of the city and partial to the sea.
Link
Sheraton Miramar
Comfortable and spacious, the Classic rooms offer captivating sea views, as does the Sheraton Signature Sleep Experience, a 32-inch flat-screen TV, high-speed Internet access and elegant decor. Two of these rooms have been specially designed with access for people with disabilities.
Link
Ankara Hotel
In order to guarantee a comfortable stay, we have equipped all the rooms with: air conditioning - heating security box frigo bar LCD television stereo with USB port wireless internet connection bathrooms with hairdryers and exquisite herbal aroma amenities.
Link
Albamar Hotel
TV cable, breakfast, heating, free wifi, phone, private bathroom.
Link
Hostel Recreo
Single room with private bathroom en suite. Cable TV, wifi, amenities (soap, shapoo, balsam), towels and white sheets included. Include a good breakfast to start your days in the city!
Link
Hotel Oceanic
Cozy room with orientation overlooking the street. The temperature can be regulated efficiently since they have air conditioning, heating and fan. The bathrooms have: Shampoo, Balsam, Hair Dryer, Soap, polish and scrubbing. As for the ammenities highlights the high speed free wi - fi, the additional bedding, among others.
Link
Neruda Mar Suites
Bedroom with Queen Bed, Wi Fi Free, Safety Box, Air conditioner, Amenities, Telephone, LCD, Cable TV. Breakfast included.
Link
Hostal Encuentro Entre Culturas
Room with a private bathroom, TV and minibar.
Link
Best Western Marina del Rey
Air conditioner.
Link
Radisson Acqua
Internet access wifi.Tv Cable. Mini Bar. Buffet breakfast served in Restaurant.
Link
Magno Hotel
Each room has a private bathroom, cable TV, hot water, heating, mini fridge, safe, hair dryer and telephone.
Link
---