FOR IMMEDIATE RELEASE
Gene Myers and Dana Pe'er Named 2014 ISCB Award Winners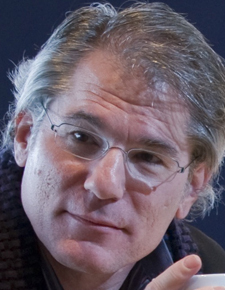 Eugene (Gene) Myers
Senior Scientist Accomplishment Award
The International Society for Computational Biology (ISCB) is pleased to announce the winners of the 2014 Senior Scientist Accomplishment Award and Overton Prize. Eugene (Gene) Myers of the Max-Planck Institute for Molecular Cell Biology and Genetics is this year's winner of the Senior Scientist Accomplishment Award, and Dana Pe'er of Columbia University is the recipient of the Overton Prize.

The ISCB Senior Scientist Accomplishment Award honors respected leaders in computational biology and bioinformatics for their significant contributions to these fields through research, education, and service. Gene Myers is being honored as the 2014 winner for his outstanding contributions to the bioinformatics community, particularly for his work on sequence comparison algorithms, whole-genome shotgun sequencing methods, and for his recent endeavors in developing software and microscopic devices for bioimage informatics.

Since 2012, Myers has been a Director at the Max Planck Institute of Molecular Cell Biology and Genetics in Dresden and the Klaus-Tschira Chair of the Systems Biology Center. Myers has also held professorships at the University of Arizona and the University of California at Berkeley, was a vice president at Celera Genomics during the human genome sequencing effort, and was a group leader at the Janelia Farm Research Campus of the Howard Hughes Medical Institute prior to moving to Dresden. Myers has published numerous papers on bioimaging and bioinformatics, and is a co-author of the manuscript first describing the BLAST algorithm, which is one of the most highly cited scientific publications of all time. Myers has served on numerous editorial boards of leading journals and has been the recipient of several honors, including election to the National Academy of Engineering (2003), the ACM Kannellakis Prize (2002), and the International Max Planck Research Prize (2004).
 

Dana Pe'er
Overton Prize
ISCB instituted the Overton Prize in 2001 to honor the untimely loss of G. Christian Overton, a pioneer in the field of bioinformatics research and founding member of the ISCB Board of Directors. The Overton Prize recognizes early- or mid-career scientists who are emerging leaders in computational biology and bioinformatics that are recognized for their accomplishments in these fields through research, education, and service. Dana Pe'er is being awarded the 2014 Overton Prize for her cutting-edge research that applies computational methods to complex data to understand the organization and function of molecular networks in cells at a holistic systems level.

Pe'er is an Associate Professor in the Department of Biological Sciences at Columbia University. She has published several high-impact papers that exemplify her ability to tackle a wide array of biological questions using computational approaches. Her studies on cancer genomics have provided insight into malignancy and have created a framework for future studies that may lead to personalized cancer therapies. Pe'er serves on the editorial board of Cell, and has received several prestigious awards, including the Burroughs Wellcome Fund Career Award, NIH Directors New Innovator Award, NSF CAREER Award, Stand Up To Cancer Innovative Research Grant and a Packard Fellow in Science and Engineering.

ISCB will present the Senior Scientist Award and Overton Prize Award at its 22nd Annual Intelligent Systems for Molecular Biology Conference (ISMB), which takes place in Boston, Massachusetts, July 11-15, 2014.  Myers and Pe'er will present their work in keynote talks at ISMB 2014.

Full bibliographical articles profiling the award recipients will be available in the ISMB 2014 focus issue of the ISCB newsletter later this year, as well as the ISCB Society Pages in PLOS Computational Biology and OUP Bioinformatics.
---