ISMB/ECCB 2013 - Exhibitor Info
Please read the following information carefully. If you have questions contact:
Steven Leard
ISCB Conferences Director
This email address is being protected from spambots. You need JavaScript enabled to view it.
Telephone: 1+780-414-1663 (Alberta, Canada)
 
EXHIBITOR RESOURCES
Catering
Schenker Shipping Information General Information
Stand Cleaning  form available here
GENERAL INFORMATION

Exhibitor Package
ISMB/ECCB Exhibitors receive the following package:

Exhibit Booth Sample Drawing
 Click here for a larger drawing of an Exhibit booth.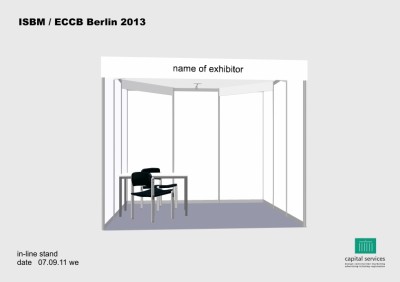 Audio Visual Equipment
To book equipment for your booth use the following forms:
Computers and Internet - form available here.
Audio Visual equipment - form available here.
Additional information is available from:


 
MB Capital Services GmbH
Th√ľringer Allee 12/12A
D-14052 Berlin
Phone: +49(0)30 - 30 67-20 15;
Fax: +49(0)30 - 30 67-20 18
E-Mail: This email address is being protected from spambots. You need JavaScript enabled to view it.
 

Conference Venue and Location
 
ICC Berlin
Neue Kantstraße / Ecke Messedamm
D-14057 Berlin
Germany
View the conference venue website
The ISMB/ECCB 2013 Exhibit area is centrally located in the ICC Berlin Main Lobby with access to the conference meeting rooms and poster displays located in the central lobby. The area serves as a hub for delegates moving between rooms. The majority of coffee service will be located in the exhibit area.
 

Exhibition Schedule**
Set-up / Exhibitor Move in:
Saturday, July 20
'ÄstExhibitors with rental booths: 12:00 'Äď 17:00¬†
'Äď Exhibitors with their own booths (refers to specialized booth (not displays) should contact This email address is being protected from spambots. You need JavaScript enabled to view it. for special arrangements)
All crates must be removed in the evening for overnight cleaning.
Exhibition Hours (as of March 11, 2013)
Saturday, July 20: 17:30 - 19:00 **Reception with Exhibitors, begins at 17:30**
Sunday, July 21: 09:30 'Äď 17:00
Monday, July 22: 09:30 'Äď 17:00¬†
Tuesday, July 23: 09:30 'Äď 16:45
**Coffee breaks are scheduled July 21, 22 & 23 as:
Morning: 10:00 'Äď 10:30
Afternoon: 16:05 - 16:35
Dismantling / Exhibitor Move out:
Tuesday, July 23: 16:45 - 18:00

Delivery Information / Inhouse Transport
All shipments and freight must be coordinated with Schenker Deutschland AG
Schenker Deutschland AG
Jafféstrasse 2
Servicecenter S√ľd
D-14055 Belin
Telephone: +49 30 301 2995-421
Fax: +49 30 301 2995-429
email: This email address is being protected from spambots. You need JavaScript enabled to view it.

ISMB/ECCB Mailing Address
(for mail only 'Äď please see Delivery Information/Shipping for booths to ICC Berlin)
International Society for Computational Biology
9500 Gilman Drive, MC 0505
La Jolla, CA 92093-0505 USA

Exhibitor Services
MB Capital Services GmbH
Ursula Lehmann
This email address is being protected from spambots. You need JavaScript enabled to view it.
MB Capital Services GmbH
Th√ľringer Allee 12/12A
D-14052 Berlin
Tel. +49 30 3067-2052
Fax +49 30 3067-2059
 

Catering for Exhibitors
Capital Catering GmbH

Exhibitors can order food and beverage requirements for their booths by contacting the catering exhibitor service team.
This email address is being protected from spambots. You need JavaScript enabled to view it.
Phone: +49-30-3038-2993.

Capital Catering GmbH
Messedamm 22
14055 Berlin
Germany
www.capital-catering.de 
 
 

Exhibitor Registration
ISMB/ECCB Exhibitors receive three (3) exhibit hall passes. Please note that exhibiting companies have an opportunity to register one staff member for the full conference at no cost as part of the exhibit package. For instructions please contact This email address is being protected from spambots. You need JavaScript enabled to view it.. Exhibitors wishing to purchase additional full fare conference registration can do so here. 
 
 

Hotel Accommodation
 
ISMB/ECCB 2013 is pleased to offer a wide range of hotels and rates for your stay during the Berlin Conference. The room block is managed by Mondial Congress and Events. Room reservations should be made as early as possible - please note these special rates are available until June 10, 2013.
 
For accommodation information, visit the housing website here.
 
Mondial Congress & Events
Email contact:  This email address is being protected from spambots. You need JavaScript enabled to view it. 

Venue Specifications & Stand Building Heights
Floor: Carpeted - light grey green with dark grey rings/balls carpet.
Max. standbuilding Height: 2.50 metres


GENERAL RULES / CONDITIONS FOR PARTICIPATION IN THE EXHIBITION.

Badges
Exhibitors who are participating only as exhibitors do not need to register at the conference registration desk as their exhibit package will be available at their individual booth and will include a name badge and conference program. Exhibitors who register as conference delegates must collect their badge from the registration desk. Exhibition coordinators can provide their exhibiting staff details directly to This email address is being protected from spambots. You need JavaScript enabled to view it.. 
 

Damage to Premises
No nails, screws or other fixtures may be driven into any part of the premises including the floors. Nor may any part of the premises be damaged or disfigured in any way. Should any damage occur, the Exhibitor will be invoiced for repair charges incurred.

Demonstrations
Demonstrations and other special activities must be located so that crowds will be comfortably contained within the contracted display space and not blocking any of the aisles. Distracting activities are subject to adjacent exhibitor and ISMB/ECCB approval. Exhibitors may not play loud music at their booth.

Exhibitor After Hours Access
Exhibitors are allowed access to their stands during set up and tear down hours and during conference show hours. Exhibitors requiring access beyond these times, must request approval from Steven Leard (This email address is being protected from spambots. You need JavaScript enabled to view it.)  or through the ISMB/ECCB Registration Desk.
 

Exhibitor Hall Area Photo
The following photo provides an idea of the space and carpet of the conference exhibition area. Click image for larger view.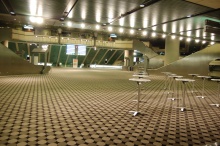 Helium Balloons
Helium ball are not permitted at the ICC Berlin.

Indemnification
It is understood that the exhibitor assumes entire responsibility for and agrees to protect, indemnify, defend and save ISCB, ECCB, ISMB/ECCB, ICC Berlin, and their respective consultants, agents, directors, employees, licensees and assigns them harmless from and against all claims, losses and damages to persons or property, governmental charges of fines and attorney's fees arising out of or caused by exhibitor's installation, removal, maintenance, occupancy or the use of or part thereof negligently or otherwise, excluding any such liability caused by the sole negligence of ISCB, ECCB, ISMB/ECCB, ICC Berlin or its employees and agents.

Insurance
Proof of insurance must be provided upon request. Exhibitors are to have a rider on their current insurance policy to cover loss of, theft of or damage to their exhibit or other personal property while it is located at or is in transit to or from the ICC Berlin. The exhibitor shall indemnify the ICC Berlin, MB Capital Services GmbH, ISCB, ECCB and ISMB/ECCB against, and hold it and its representatives harmless from complaints, suits or liabilities resulting from negligence of the exhibitor in connection with the exhibits use of display space. The ICC Berlin, MB Capital Services GmbH, ISCB/ECCB and ISMB/ECCB shall have no liability for loss, damage or theft, through any cause, of goods, hand carried items, exhibits, or other materials owned, rented or leased by the exhibitor. Personal effects, souvenir handouts and other small, easily removed valuable items should not be left unattended. In no event ISCB, ECCB and ISMB/ECCB have any liability for incidental, consequential, special, indirect or punitive damages for any harm arising from, or related to, the use of exhibit space under the contract agreement.

Leaflet Distribution
Leaflets may not be distributed from anywhere other than the exhibition stand without receiving prior permission from the Organizers. Leaflets displayed or distributed at any other point throughout the venue, without prior permission, will be removed and destroyed by the Organizers.

Parking
Limited parking is available at ICC Berlin. Exhibitors are encouraged to use public transit or to use taxi as recommended by the hotel. Information on parking and transportation can be found here

Security
ISCB/ISMB will provide security in the exhibit area during all off-hours and will take reasonable precautions to safe guard exhibitor's property. Exhibitors are encouraged to remove any valuable items from the exhibit area each evening.

Travel Visa Application
Please ensure to review the Visa information carefully located here. Should you have any questions about entry into Germany please check with your closest German embassy or consulate.

 

General Conference Information
General conference information is available here.