posted 27 Feb 2007
Orienteering Event
Opening Reception City Hall
An evening in Vienna
Discover Vienna Orienteering Event & Icebreaker
Saturday, July 21, 5:30 p.m.
Depart: Austria Center Vienna
Dress code: walking or hiking shoes, appropriate outdoor gear for the weather
Registration Fee: 12€
Update:
Orienteering Event Details (PDF)
Orienteering Event Map (PDF)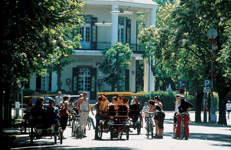 Discover the city's famous green district in the heart of Vienna! The OLC Wienerwald has prepared a breath-taking orienteering course for you, in an area, where the royal household of Vienna once strolled.
This event an ISMB tradition provides delegates a hour full of concentration, fun and exercise in the former imperial hunting grounds.
Plan now to attend!
Photo © WienTourismus/Popp & Hackner
Vienna Waits for You!
Vienna City Hall Opening Reception
Saturday, July 21, 8:00 p.m.
Individual arrival (map)
Internet resolution (308 KB)
Print resolution (2 MB)
Dress Code: Business Casual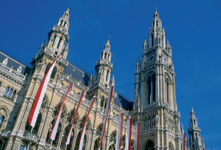 The Mayor of Vienna cordially invites you to the official opening of this great conference. Don't miss out on this fascinating evening in one of Vienna's most beautiful buildings!
The Arkadenhof, where we will celebrate this event with light food and music is one of the biggest inner courtyards in Europe with a surface of 2.804 square meters!
To give you an impression of the dimensions: the choir-type oriel along the western wall is a reminder of the original project to build a chapel inside the City Hall!

The City of Vienna looks forward to welcoming you to ISMB/ECCB 2007 Opening Reception!
Vienna City Hall by public transport:
Take the underground U2 to station "Rathaus" (this is German for "City Hall"). As you exit the station you will already see the backside of City Hall. Pass it, so the building is to your left and take the entrance on this side.
Photo © Österreich Werbung/Diejun
Tuesday, July 24, 6:00 p.m.
Departure: Front Entrance, Austria Center Vienna,
Return: Conference Hotels
Dress code: casual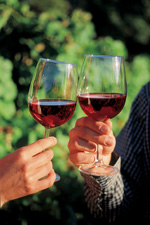 The traditional evening in Vienna at the Heuriger is included with delegate registration. Additional tickets can be purchased for a cost of 66€ per person during registration or by contacting registration at: registration07@ismbconf.org
The final evening of ISMB/ECCB provides delegates and their guests an opportunity to experience a traditional Viennese. The wine, which is home-grown, the sumptuous food and the traditional Schrammel music invite you to spend a nice and cozy evening at the Heuriger (wine taverns) in Neustift am Walde. One of the main centers for people who want to enjoy Viennese atmosphere in a picturesque location, home made specialties from a hearty buffet and typical Viennese music.
Do you know where the word "Heuriger comes from? It can be translated with "of this year" and means a young spicy wine produced after the current harvest.
Bus transfer to the lovely wine yards included!
Photo © Austrian National Tourist Office/Bartl