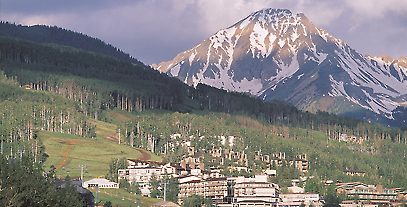 Silvertree Hotel is the location of the Rocky '05 meeting.
CONFERENCE LOCATION
Discount rooms are available at the Silvertree Hotel, Wildwood Lodge, Lincehearth and Terrace House. All hotels are walking distance to the conference location.

Parking at the Conference:
The Silvertree is offering parking rates of $19.00 self park per day and $23.00 for valet parking per day. This will be added to the hotel bill for guests staying at the Silvertree. Delegates not staying at the Silvertree should confirm with the staff of the hotel where they are staying for parking information and rates.

SILVERTREE CONTACT INFORMATION
Silvertree Hotel
Direct: (970) 923 - 3520
Guest Fax: (970) 923 - 5192
Wildwood Lodge
Direct: (970) 923 - 3550
Guest Fax: (970) 923 - 4844
Physical Address: 100 Elbert Lane, Snowmass Village, CO 81615
Mailing Address: PO Box 5009, Snowmass Village, CO 81615

SNOWMASS HOTEL HOUSING INFORMATION
Rocky 05 Accommodation Update

The Silvertree and Wildwood Lodge are now sold out.

Condominium Space is still available at Lichenhearth (studio condo $99 or a one bedroom $105) Or Terracehouse (two bedroom condo $139). To take advantage of these Rocky 05 rates please contact reservations directly at 1.800.525.9402.

Other hotel options include:

Pokolodi Lodge
970-923-4310
Lower Level room: $75.00
Upper Level room: $79.00

Snowmass Inn, part of the Pokolodi Lodge, reservations at same location: $69.00

Discounted rooms are available for Rocky 05 attendees.
One night deposit plus tax is due with the reservation. The balance is due upon check-in.
Discount group rate cut-off date November 9, 2005. After this date, rooms, if available, are at regular rates.
Extra person charge is $25.00 per person/per night (triple/quad). Children under 12 stay free in parent's room. Rollaways are $25.00 per night and cribs are complimentary.
Check in time: 10:00am and Check out time: 4:00pm
RESERVATIONS
ROCKY 05 GROUP RATES
Room Type

Rate w/Continental Breakfast Coupon

Silvertree Hotel

$99.00 single
$109.00 double

Licenhearth Hotel


One Bedroom Condo
$179.00 single
$189.00 double

TerraceHouse


Two Bedroom Condo
$239.00 single
$249.00 double

Student Housing/Wildwood Lodge
* Rooms at Wildwood are reserved for students only for a special low rate. Rooms are limited, students will be required to show ID's upon check-in.

$60.00 single *
$72.00 double *
These rates will be subject to all state, county and city taxes and assessments in effect at the time of ISCB meeting. State tax and civic assessments is currently 12.54% (2.4% Civic Assessment, plus its applicable tax, and 10.14% State Tax) and is subject to change.