ISCB Equity, Diversity and Inclusion (EDI) Mission
---
---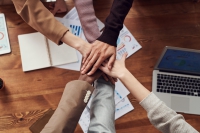 ISCB is committed to creating a safe, inclusive, and equal society for all our members. These values are enshrined in the ISCB's Code of Conduct, values, and ethics. We acknowledge, respect, and promote the value of a diverse community as core to our international organization and culture.
ISCB continues to seek to create a diverse and inclusive environment where all can come together, meet, exchange ideas, and work toward goals in an atmosphere of safety, respect, and civility. The ISCB Board of Directors approved ISCB's first EDI Strategic Plan (see under EDI Resources) as proposed by the ISCB EDI Committee.
The ISCB EDI Committee shall (a) identify the inclusion and diversity strengths, issues, and opportunities within all aspects of ISCB; (b) develop strategies and plans to examine ways in which we include and exclude (however unintentionally) ISCB members; (c) systematically examine aspects of ISCB to enhance its effectiveness and ability to meet the needs of its diverse membership; and (d) respectfully document the successes of inclusivity approaches.
The ISCB EDI Committee serves the ISCB Board of Directors by engaging our shared experiences, and promoting a community of respect that honors the humanity of all.
The EDI Committee is an ISCB Outreach Committee. It is the EDI Committee's job to: (a) make recommendations regarding inclusive and diverse approaches, (b) examine programs, activities, policies, and practices to determine intentional or unintentional exclusiveness, and (c) engage members in scholarly dialogues, in consultation with the ISCB Board of Directors.
---