Congratulations to 2012 ISCB Overton Prize Winner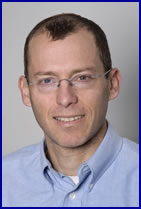 Picture: 2012 Overton
Prize Winner,
Ziv Bar-Joseph
January 31, 2012 - The International Society For Computational Biology (ISCB) has awarded the Overton Prize for outstanding accomplishment to Ziv Bar-Joseph, associate professor at the School of Computer Science at Carnegie Mellon University in Pittsburgh.

The Overton Prize is awarded annually to an early to mid-career scientist who has made a significant contribution to the field of computational biology. In recognition of the award, Bar-Joseph will give a keynote address at the Annual International Conference on Intelligent Systems for Molecular Biology in July, to be held this year in Long Beach, California (ISMB; www.iscb.org/ismb2012).

Bar-Joseph gained a PhD in computer science from the Massachusetts Institute of Technology in 2003 where he also discovered the challenge of analysing high-throughput biological data using computational techniques. Since then, he has developed important techniques using machine learning for integrating multiple biological data sources in ways that infer dynamic regulatory networks. He has also pioneered the search for biological solutions to complex computational problems, such as how to build robust distributed networks efficiently.

"We have all been impressed by the quality of his scientific contribution and the novelty of the approaches he has developed," says Alfonso Valencia, chair of the ISCB awards committee.

Burkhard Rost, president of the ISCB, has been hugely impressed by Bar-Joseph's work. "It's stunning how he is able to handle such a diverse set of technical methods," he says. "He's a perfect example of a new generation of scientists."

Bar Joseph says he is honoured to be receiving the award: "I know many of the past winners and it's an amazing group."

For more information about the Overton Prize and its past recipients, please visit www.iscb.org/iscb-awards/overton-prize.
---
>> Return to List of Overton Prize Recipients