ISCB Buzz:  Conference Updates, Wikipedia Competition, Ebola Award & More!


Conference Updates

ISMB 2016
- Call for Special Sessions at ISMB! Deadline for proposals 04 December!
- Call for Applied Knowledge Exchange Sessions (AKES). Deadline for proposals: 22 January


Call for Submissions!
Submissions are being requested for the new ISCB Fight Against Ebola Award. ISCB will award the winning submission at ISMB 2016. Deadline for submissions is April 10, 2016. To submit click here.

ISCB Wikipedia Competition
The competition is open to all students and trainees aims to improve content of Computational Biology articles in Wikipedia. Deadline for entry into the competition is January 11, 2016. Click here to learn more.

ISCB Fall Newsletter!
Hot off the E-press! Click through the exciting updates within the community and learn more about ISCB's new initiatives in the 2015 Fall Newsletter.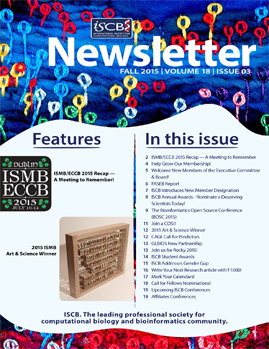 ---