ISCB Buzz: Latest News, Events & Announcements!


MARK YOUR CALENDARS!


GLBIO/CCBC 2016
May 16 - 19, 2016
University of Toronto
Canada




ISMB 2016
July 8 - 12, 2016
Orlando, Florida




WIN a FREE ISMB 2016 Registration!
ISCB is excited to introduce the new Member Get a Member Campaign. You've seen first-hand the value in ISCB membership, and now its time to share that value, your stories of ISCB with your students, colleagues, and friends.

Hot off the E-Press!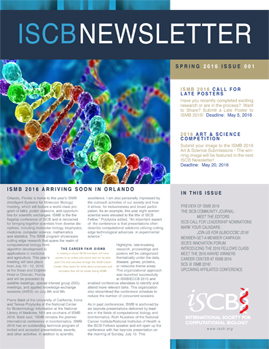 The Spring Newsletter is here. Read through the exciting initiatives being introduced and get ready for the science packed preview of this year's annual meeting, ISMB 2016!





NIBLSE Undergraduate Bioinformatics Survey
Want to Improve Undergraduate Bioinformatics Education? The Network for Integrating Bioinformatics into Life Sciences Education (NIBLSE) is an NSF Research Coordination Network for Undergraduate Biology Education (RCN-UBE) devoted to establishing bioinformatics as essential to the undergraduate life sciences curriculum. Please take (and share!) this brief survey we have developed (https://goo.gl/H2XkrU) about how bioinformatics should be included in the life sciences curriculum.

Mark Your Calendar for the SIG & SM Line-up @ ISMB 2016!
Browse through the current listing of SIGs & Satellite Meetings at ISMB 2016 in Orlando.

Call for Submissions @ ICML 2016
We invite submissions to the Workshop on Computational Biology to be held in conjunction with ICML 2016 conference in New York City, NY. Submission Deadline: May 1, 2016
---