Thank you for your service to ISCB


ISCB sincerely thanks the following individuals for their service as they end their leadership terms:
Reinhard Schneider, ISCB Board of Directors

Burkhard Rost, ISCB Board of Directors

Janet Kelso, ISCB Vice President

Opportunities to submit to ISMB 2020:

Call for Proceedings!
Deadline: January 30, 2020
ISMB 2020 invites submissions of full papers (not abstracts) consisting of new, non-published work, reporting theoretical, computational, and statistical advances in computational biology and its intersections with other fields.

Call for Special Sessions Proposals!
Deadline: January 30, 2020
Submit your ISMB 2020 Special Sessions Proposal for emerging research areas! Special Sessions introduce the ISCB community and ISMB delegates to relevant 'hot' topics that are not already covered in the COSI tracks.

Call for Tech Talks!
Deadline: May 7, 2020
Take this opportunity to showcase your latest software and/or hardware relevant to the bioinformatics/molecular biology community.


ISCB Career Center

ISCB Career Center – the place to post a job, search for a job, or upload your CV. Job posting and CV upload is complimentary for members. Nonmember may also participate for a nominal fee.



ECCB 2020: Call for Workshops/SIGs & Tutorials
Submission deadline: January 30th, 2020
Don't miss the opportunity to submit your proposal to discuss scientific and technical issues, exchange research ideas, and share practical experiences on a range of focused or emerging topics in Bioinformatics.

Visit https://eccb2020.info/ for more information.


CTD2 DREAM Challenges
Be a part of the DREAM effort to improve targeted and personalized cancer treatments by participating in these current DREAM challenges sponsored by NCI's Cancer Target Discovery and Development (CTD2) Program. Please help us spread the word about these two exciting Challenges!


RECOMB 2020
Registration is now open. Please be sure to read the instructions carefully. Additional information on satellite meetings: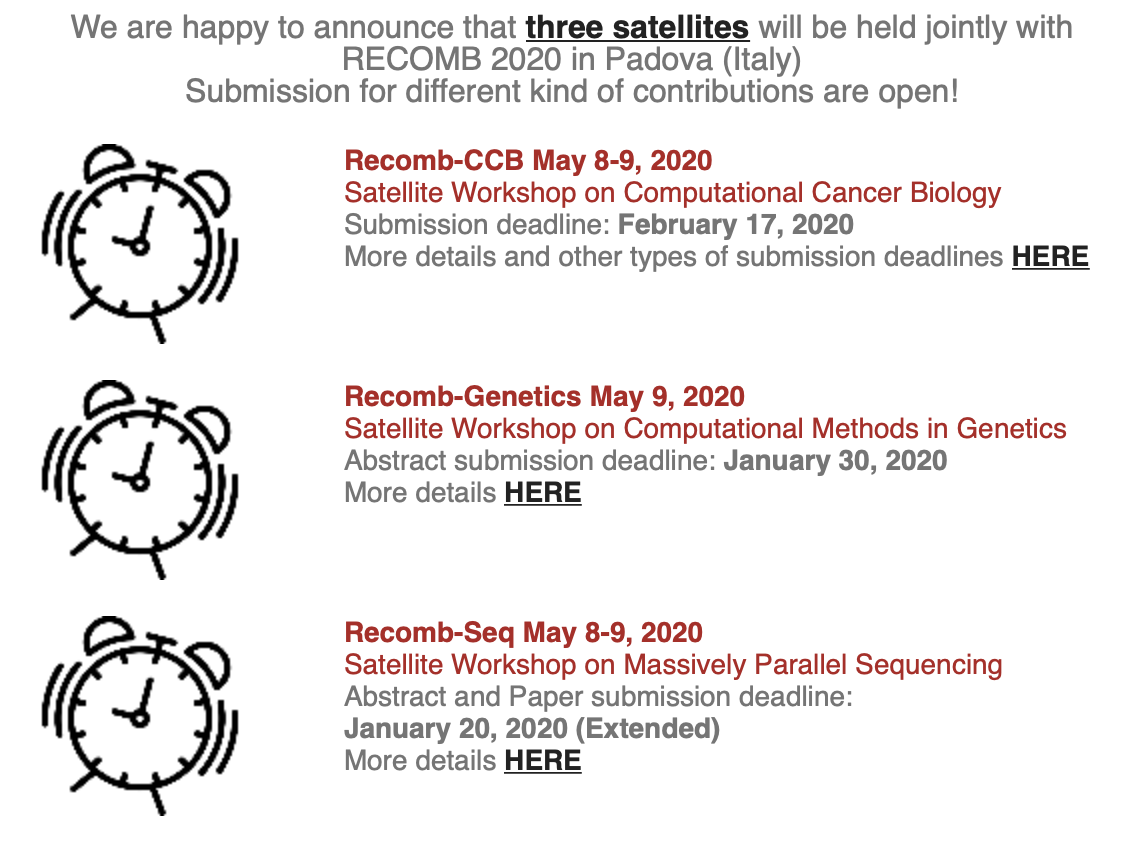 Members Corner


 
 
 

Support ISCB!



Giving back never felt so good - Donate Now to the Anna Tramontano Fund to help support the next generation of computational biologists!


 

ISCB Membership

Not yet a member of ISCB? Don't keep missing out on conference discounts, access to incredible science and so much more!

 
 
 
 
Senior Member Designation



The senior member designation is attained by members who are one decade post degree and who have demonstrated sustained contributions to the field of computational biology or to ISCB.

 
Support ISCB!



AmazonSmile is a simple and automatic way for you to support ISCB every time you shop, at no cost to you. Shop on

amazon.com

with the added bonus that Amazon will donate a portion of the price to ISCB!