ISMB/ECCB 2013 Exhibitors
 
The ISMB/ECCB 2013 Exhibit area is centrally located in the ICC Berlin Main Lobby with access to the conference meeting rooms and poster displays located in the central lobby. The area serves as a hub for delegates moving between rooms. The majority of coffee service will be located in the exhibit area.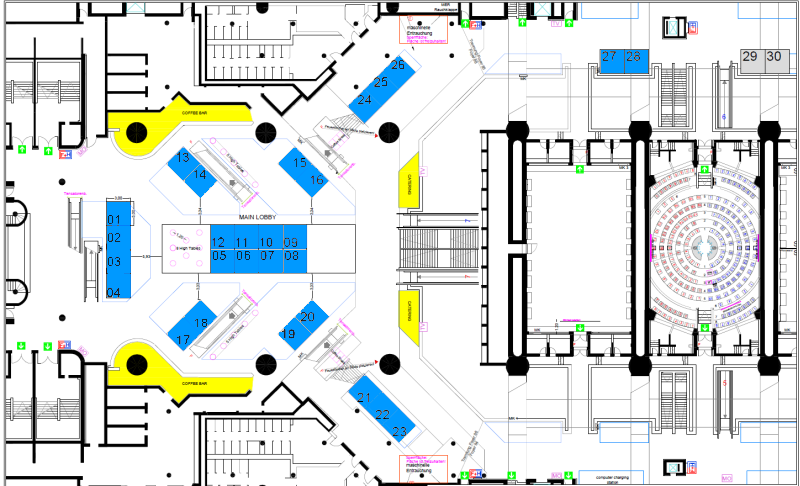 ISCB Student Council (SC, www.iscbsc.org) is an international network of young researchers in the broader disciplines of the field of Computational Biology. SC provides opportunities for networking, career enhancement and skills development for the next generation of Computational Biology leaders. The SC Symposium (symposium.iscbsc.org) is organized as a part of the annual ISMB conference with student presentations, keynotes, panel discussions and a poster session. Come visit our friendly SC representatives at the booth for more information.
 
---
The International Society for Computational Biology (ISCB) (www.iscb.org)  was the first and continues to be the only society representing computational biology and bioinformatics worldwide. ISCB serves a global community of nearly 3,000 scientists dedicated to advancing the scientific understanding of living systems through computation by:
---
ECCB'14 is the key European computational biology event in 2014, uniting scientists working at the interface between computer science and biology, and addressing a broad range of disciplines ranging from computational biology and bioinformatics to systems biology and translational medicine. Participation at ECCB'14 will be a unique opportunity to learn about cutting-edge research in computational biology and bioinformatics and to network with other members of our community.

ECCB14 will be held in Strasbourg on Sept. 7-10. Come and visit us at the booth to learn more about ECCB14, pick up a luggage tag and prepare your trip to France!
 
---
The Genome Analysis Centre (TGAC) is a research institute focused on the application of state of the art genomics and bioinformatics to advance plant, animal and microbial research to promote a sustainable bio-economy. TGAC is a hub for innovative bioinformatics founded on research, analysis and interpretation of multiple, complex data sets. We host one of the largest computing hardware facilities dedicated to life science research in Europe. TGAC also offers advanced training for current researchers and engages with the next generation of scientists and the public about science and its impact.

top
---
Come and browse key titles. Get 20% off print books and eBooks. Among our ISMB-ECCB 2013 highlights are Modeling in Systems Biology, the Encyclopedia of Systems Biology, the Computational Biology series, Transactions of Computational Biology, and many more.  
Meet our Editors Wayne Wheeler and Melanie Tucker to discuss your publishing proposal. Ensure maximum readership for your work, too!
Springer, your partner in publishing.  Find all offers online: springer.com/ismbeccb
 
Also meet our open access journal publishing partner BMC at booth #18
 
Visit SpringerComputerScience on Facebook or follow @SpringerCompSci and @SpringerSysBio on Twitter for the latest news.

top
---
The European Bioinformatics Institute (EBI) is a non-profit academic organisation that forms part of the European Molecular Biology Laboratory (EMBL).  The EBI is a centre for research and services in bioinformatics. The Institute manages databases of biological data including nucleic acid, protein sequences and macromolecular structures.

top
---
ELIXIR is to building a sustainable European infrastructure for biological information supporting life science research. ELIXIR will be a distributed infrastructure arranged as a Hub at the European Molecular Biology Laboratory's European Bioinformatics Institute (EMBL-EBI) in Hinxton, UK and  Nodes distributed throughout Europe.

top
---
BioMedBridges is a joint effort of ten biomedical sciences research infrastructures on the ESFRI roadmap. Together, the project partners will develop the shared e-infrastructure'ÄĒthe technical bridges'ÄĒto allow interoperability between data and services in the biological, medical, translational and clinical domains and thus strengthen biomedical resources in Europe.

top
---
Oxford University Press is a department of the University of Oxford. It furthers the University's objective of excellence in research, scholarship, and education by publishing worldwide.

top
---
BIOBASE headquartered in Germany with branch office in Beverly, MA, USA, is a leading provider of manually-curated biological databases, software and services for the life sciences. BIOBASE offers a well-structured data, assembled by highly qualified subject-matter experts, organized in an accessible and easily searchable manner that enables researchers to identify connections between disparate pieces of information and to apply that knowledge to their specific topic of interest.
top 
---
 CRC Press/Taylor & Francis Group is a premier publisher of professional reference books, textbooks, journals, and electronic databases in the field of computational biology. Please stop by our booth to view new books, obtain copies at special show discounts, discuss project ideas with our editorial staff, or peruse our journal offerings.
---
PLOS Computational Biology¬†is a peer-reviewed, open-access journal featuring works of significance that further the understanding of living systems of all scales 'Äď from molecules and cells, to patient populations and ecosystems -- through the application of computational methods. It is an official journal of the¬†International Society for Computational Biology.
---
For the past 15 years, TimeLogic has been providing high-throughput computing solutions for the bioinformatics community. Our FPGA-based DeCypher¬ģ systems deliver industry-leading price to performance and provide faster results and lower operational costs than alternative solutions. Find out more and schedule your own benchmark tests at www.timelogic.com

top
---
Cray builds innovative systems and solutions enabling researchers to meet existing and future simulation and analytics challenges. Leveraging years of experience developing the world's most advanced supercomputers, Cray brings you a comprehensive portfolio of high performance computing systems (HPC), storage and Big Data solutions delivering unrivaled performance, efficiency and scalability.

top
---
The Royal Society journals regularly publish content in the area of molecular and computational biology.  For more information about the scope and editorial procedures of our journals, please come and have a chat with our representative Dr Tim Holt at booth number 16. Alternatively, visit our website at http://royalsocietypublishing.org

top
---
www.clcbio.com
CLC bio is the world's leading bioinformatics solution provider and the only one that provides both desktop and server software seamlessly integrated and optimized for best performance. By developing their own proprietary algorithms, the scientists at CLC bio have successfully parallelized the data calculations to achieve remarkable improvements in speed over comparable solutions. 


---
BioMed Central is the open access publisher with over 240 journals across biology and medicine. BioMed Central has a number of journals across Molecular and Computational Biology including Microbial Cell Factories, BMC Bioinformatics and BMC Molecular Biology.
---
The MIT Press publishes a distinguished programme of scholarly books in computational molecular biology and related biological sciences. Robert Prior, Acquisitions Editor, will be available during the conference to talk to you.
Contact details:  Robert V. Prior, Executive Editor, The MIT Press, 55 Hayward Street, Cambridge, MA  02142, USA.  This email address is being protected from spambots. You need JavaScript enabled to view it.
For marketing and order queries please contact: The MIT Press, 1 Duchess Street, London W1W 6AN   This email address is being protected from spambots. You need JavaScript enabled to view it..
---
Cambridge University Press is a not-for-profit organization that advances learning, knowledge and research worldwide. It is an integral part of the University of Cambridge and for centuries has extended its research and teaching activities through a remarkable range of academic and educational books, journals, and examination papers.
---
Convey Computer breaks power, performance and programmability barriers with the world'Äôs first hybrid-core computer'ÄĒa system that marries the low cost and simple programming model of a commodity system with the performance of a customized hardware architecture. Convey'Äôs new Scalable Threaded Architecture provides dramatically increased applications performance in life sciences, research, high-performance analytics, and government/defense.


---
Biomax Informatics AG is a leading provider of customized bioinformatics solutions. Our BioXM Knowledge Management Environment is a powerful decision-support tool enabling measurable productivity increases in biomedical R&D and clinical practice. It allows domain experts, rather than programmers, to create, structure and visualize complex scientific models, helping users to harness the information overload and distill critical insights from data.
 
---
As market leader in enterprise application software, SAP (NYSE: SAP) helps companies of all sizes and industries run better. From back office to boardroom, warehouse to storefront, desktop to mobile device 'Äď SAP empowers people and organizations to work together more efficiently and use business insight more effectively to stay ahead of the competition. SAP applications and services enable more than 238,000 customers to operate profitably, adapt continuously, and grow sustainably. For more information, visit www.sap.com.
 
---
sbv IMPROVER stands for systems biology verification and Industrial Methodology for Process Verification in Research.
The project team of this initiative includes scientists from Philip Morris International's (PMI) Research and Development department and IBM's Thomas J. Watson Research Center. The project is funded by PMI.

top
---
The European Grid Infrastructure (EGI) is a publicly funded e-infrastructure built to provide scientists and researchers with the computing tools they need for their work. Today, grid computing is helping us to understand better how the blood circulates in the body, the dynamics of ocean currents or how black holes are formed, just to give a few examples.

top
---
SciEngines develops and markets application specific IT solutions based on FPGAs. The high performance computers of the RIVYERA series, with configurations ranging from 100 to 3000+ CPU cores performance, offer a price-performance ratio that is usually 5x better than ordinary computers - at 10% electricity consumption. Implementation and custom-design services are available.

top
---
www.genexplain.com

We provide software for research in bioinformatics, systems biology, pharmacogenomics, cheminformatics, medicinal chemistry, and early steps of drug discovery. 
The geneXplain platform, optionally with TRANSFAC inside, facilitates a biological interpretation of microarrays, proteomics, and ChIP-seq data. 
PASS and GUSAR predict bioactivity spectra for new substances, natural compounds, and new activities for established drugs.

top
---
www.korilog.com

Korilog is a bioinformatics company providing researchers with KLAST, a new high performance sequence similarity search software. Relying on KLAST, Korilog softwares enable a wide range of NGS applications.

top