Frequently Asked Questions
A: The International Society for Computational Biology (ISCB) is the parent organization of the annual conference on Intelligent Systems for Molecular Biology (ISMB). The ISCB is dedicated to advancing the scientific understanding of living systems through computation. The ISCB communicates the significance of our science to the larger scientific community, governments, and the public at large. The ISCB serves a global membership by impacting government and scientific policies, providing high quality publications and meetings, and through distribution of valuable information about training, education, employment and relevant news from related fields. ISCB membership offers many benefits including reduced conference registration fees to several high impact events and reduced subscription prices for a selection of journals of Computational Biology and Bioinformatics. Members are from more than 50 countries and include over 800 students and nearly 500 post doctoral researchers. A member's meeting and a meeting of the Board of Directors for the Society are held annually in conjunction with the ISMB conference. 
 
---
A: The European Conference on Computational Biology (ECCB) is a multi-disciplinary conference that bridges the fields of computer science, mathematics, physics, chemistry and biology by bringing together involved scientists from all over the world. It has a revolving scheme in which, each year, one of the European countries hosts the European conference, often jointly with the national conference on computational biology.
 
---
Q: What is the ISMB conference?
A: Intelligent Systems for Molecular Biology (ISMB) is the annual meeting of the International Society for Computational Biology (ISCB). Over the past 20 years the ISMB conference has grown to become the largest bioinformatics conference in the world. The ISMB conferences provide a multidisciplinary forum for disseminating the latest developments in bioinformatics. ISMB brings together scientists from computer science, molecular biology, mathematics, and statistics. Its principal focus is on the development and application of advanced computational methods for biological problems.
 
---
Q: Why are ISMB and ECCB joined for 2013?
A: ISMB/ECCB builds on the successes of the joint conferences first beginning in 2004. In 2013 a combined ISMB/ECCB conference will again offer the strongest scientific program and the broadest scope of any international bioinformatics conference.
 
---
Q: Who are the ISMB/ECCB 2013 Conference Chairs?
A: The conference chairs for ISMB/ECCB 2013 are:
Burkhard Rost, Conference Chair, Technical University Munich, Germany
Anna Tramontano, Conference Co-chair, University of Rome, Italy 
Martin Vingron, Conference Co-chair, Max Planck Institute for Molecular Genetics, Berlin, Germany
top 
---
Q: Who do I contact for information on the conference?
A: You can get information on the conference from:

c/o Executive Officer
International Society for Computational Biology
9500 Gilman Drive, MC 0505
La Jolla, CA 92093-0505 USA

or from the Conferences Director, Steven Leard at:
Phone: +1-780-414-1663
Fax: +1-780-414-1664
Email: This email address is being protected from spambots. You need JavaScript enabled to view it.
 
---
Q: Where will the conference be held?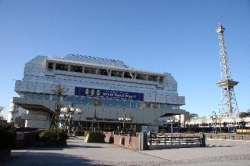 A: The conference will be held at the ICC Berlin.
To learn more about about the ICC Berlin click here
 
 
 
 
 
 
 
---
 
Q: What is the address of the ICC Berlin?
 
Getting to the ICC Berlin:
Neue Kantstraße / Ecke Messedamm

D-14057 Berlin


The following stations are within walking distance to the ICC:
a) S-Bahn Station Messe Nord / ICC (S-Bahn circle line 41 and 42 / brown line): approximately a 4 min walk
b)¬†S5 or S7 to 'ÄúCharlottenburg'ÄĚ and then take the bus M49 to S Messe Nord /ICC. This station is located directly in front of the ICC.
c) U-Bahn Station Kaiserdamm (U 2 / red line): approximately a 6 min walk
 
Right next to the ICC Berlin is the plainly visible radio tower. Details on how to get there are available here.
 
---
A: Berlin is the capital city of Germany and one of the 16 states of Germany. Berlin is Germany's largest city with a population of about 3.5 million people.
Located in northeastern Germany on the River Spree, it is the center of the Berlin-Brandenburg Metropolitan Region. Located in the European Plain, Berlin is influenced by a temperate seasonal climate. Around one third of the city's area is composed of forests, parks, gardens, rivers and lakes.
Berlin is Germany'Äôs political, cultural and historical centre. It has once again become a top ten destination amongst world metropolises. Berlin will treat you to a living history, art treasures from all eras, trendy shopping and a wild club culture. And because the German capital sits in the heart of Europe, it'Äôs an easy city to access 'Äď regardless of if you'Äôre coming from Wladiwostok or Wanne-Eickel. Whether¬†
 
---
Q: Do I need a visa to visit Berlin, Germany?
A: Non-EU citizens need a valid passport to enter Germany. Information sheets listing the regulations for persons from the respective countries, who want to stay less than 90 days, are available at the respective German embassies.
Non-EU citizens who want to stay longer than 90 days need a visa from a German Consulate. These are usually only issued for business travellers and students with a foreign scholarship. The citizens of the following countries do not need a tourist visa to enter Germany:
Andorra, Argentina, Australia, Belgium, Bermuda, Brazil, Brunei, Bulgaria, Chile, Costa Rica, Denmark, El Salvador, Estonia, Finland, France, Greece, Great Britain, Guatemala, Honduras, Hongkong, Ireland, Iceland, Israel, Italy, Japan, Canada, Republic of Korea, Croatia, Latvia, Liechtenstein, Lithuania, Luxemburg, Macao, Malaysia, Malta, Mexico, Monaco, New Zealand, Nicaragua, the Netherlands, Norway, Austria, Panama, Paraguay, Poland, Portugal, Rumania, San Marino, Sweden, Switzerland, Singapore, Republic of Slowakia, Slovenia, Spain, the Czech Republic, Hungary, Uruguay, USA, Venezuela, Cyprus.
We recommend that tourists, who want to combine their stay in Berlin with a trip to other European countries, apply for the necessary visas to enter the countries of their choice prior to their departure.
Vaccination requirements: none
Vaccination recommendations: Tetanus, Diphteria
Currency: Euro ('ā¨), may be brought into and taken out of the country in any amount. Cash money of more than 10,000 EUR must be declared at the customs authorities.
Citizens of EU member states: no visa required
Citizens of Non-EU states: visa always required
Currency exchange obligation: none
For further information please visit: http://www.bund.de/EN/Entering-Germany/Entering-Germany_node.html

 
---
Q: What is the closest airport to Berlin?
A: Berlin offers two airports - Schönefeld and Tegel - which both are accessable with the public transport system very easly. The new Berlin Brandenburg International Airport BER is curently under construction and will not open before the conference.
Schönefeld is situated in the southeast of Berlin, approximately 18 km from the city centre. The airport is connected with the city centre by the S-Bahn (suburban train) lines S45 and S9 as well as with several AirportExpress trains that run from/to Hauptbahnhof, Zoologischer Garten, Friedrichstraße, Alexanderplatz and Ostbahnhof every half an hour. S45 and S9 need about 45 minutes for the trip to the centre, the trains take 15 min (from/to Ostbahnhof) to 30 min (from/to Hauptbahnhof), 35 min(from/to Zoologischer Garten). All trains and the S-Bahn stop at the station "Flughafen Berlin-Schönefeld". Note that the airport is located in fair zone C (ticket Berlin ABC)
 
Schönefeld Airport (SXF)
12521 Berlin (Schönefeld)
+49 180-500 01 86 (0,14 'ā¨ /Min.)
Fernbahn/IC-Anschluss ca. 300 m/5 Min.
S Flughafen Berlin-Schönefeld
N X7, 162, 163, 171, 736
Tegel is situated in the northwest of Berlin, approximately 8 km from the city-centre. You can reach the western city centre from the airport conveniently within 15 minutes.
Apart from the buses 109 and 128 the JetExpressBus TXL connects the airport to the main train station Hauptbahnhof. The Expressbus X9 leaves from the train station Zoologischer Garten. The Expressbuses stop only at the main bus stops and are therefore a quick connection.
The bus or undergound ticket costs 'ā¨ 2.40 (fair zone AB), or 'ā¨ 3.10 for trips to the surroundings (fair zone ABC).
Tegel Airport (TXL)
13405 Berlin (Reinickendorf)
+49 180-500 01 86 (0,14 'ā¨/Min.)
N X9, 109, 128, Jet Express TXL
Further information www.berlin-airport.de
Flughafen Berlin Brandenburg
The new Willy Brandt Berlin Brandenburg Airport (BER for short) is currently being built in Berlin Schönefeld. In the future the entire air traffic of the region will be handled from the completely new airport, and the previous Berlin airports at Tegel and Schönefeld will be closed down.
The opening date of the new Berlin Brandenburg International Airport BER is crrently uncertain, but not before 2014.
airBerlin is also moving from its previous base to the new BER airport. Taking its partners into account, there will then be a total of over 900 destinations available, with some 9,500 departures every day.
In addition to the scheduled services, the low-cost airlines Easyjet, germanwings and Ryanair will also be flying from the new airport to many destinations.

Additional information on air travel to Berlin is available here.
Q: What is Germany's Time Zone?
A: Berlin lies within the Central European time zone (CET). From the last Sunday in March to the last Sunday in October, summer time is in effect (MESZ).
Visit here to find the current Berlin time
Q: What is the Electrical Current?
A: The voltage is 220 - 240 Volts (Alternating Current) You can find more information here about current and electrical adapters for plugging in. 
 
---
Q: What is the International area code?
A: The area code for Berlin from abroad is: + 49 (German Country Code) and 30 is the Berlin Area Code
 
---
Q: What language is spoken in Germany?
A: German is the primary language. The most common foreign language is English
 
---
Q. In what language will the conference sessions and materials be presented?
A. All conference presentations and materials will be presented in English.
top
 
---
A:¬†Berlin has a continental climate, with cold winters and often quite hot summers. The coldest months are December, January, and February, when mean temperatures of 'ąí0.4 to 1.2¬įC (31.3 to 34.2¬įF) and freezing temperatures can continue for many weeks. The warmest months are June, July, and August, with mean temperatures of 16.7 to 17.9¬įC (62.1 to 64.2¬įF) and during particularly hot periods temperatures can exceed 30¬įC.
Current Berlin Weather available here
 
---
Q: Where do I get more information on Berlin?
A: Visit the official website of Visit Berlin here.
 
---
Q: What are the conference hotels?
A: The ISMB/ECCB organizers are using Mondial Congress and Events to coordinate the housing block and a wide selection of hotels available at special discounted rates for conference attendees. Remember most hotels offer breakfast part of their room rate.

Mondial Congress and Events, the official conference housing Bureau, can be contacted by e-mail at This email address is being protected from spambots. You need JavaScript enabled to view it.
These special rates are available til June 10, 2013  - full details on housing is available here.

 
 
---
Q: Where can I find medical information?
A: Emergency Numbers:
Police - Dial  110
Medical Emergency - Dial 112
Additional details are available here
 
---
Q: What is the custom on tipping?
A: In many areas such as restaurants, taxis, hairdressers, service stations, tipping is traditionally expected. Usually, the tip amounts to about 5 to 10 percent, but the size of the tip should be according to your satisfaction with the services rendered.
 
---
Q: What can I do to ensure my personal safety?
A: Berlin is an extremely safe city, however like all cities Berlin has its share of petty crime.  Two of the biggest areas for pickpocketing in Berlin are on the U-Bahn and at the Bahnhof Zoo.  Just use common sense when at these places, or in crowded touristy areas.  Don't keep large amounts of cash on hand at a time, don't wear flashy and expensive jewelry, and keep your passport in a safe place, ideally a money belt underneath your clothes where you can hide it.  Keep alert while on the S/U-Bahn: better to be too cautious than sorry!  On each U-Bahn station platform, there is a red panic button that can be pushed if need be.  Guards also patrol most stations.   While at restaurants or cafes, don't keep a purse slung on the back of a chair where someone can easily snatch it.  Keep it under the table instead.  NEVER leave luggage unattended anywhere.  Just use common sense and keep your judgment up, Berlin is very safe and more likely than not, you won't ever be the victim of any type of crime.


Tips for your personal safety can be found here and additional information from Berlin Tourism can be found here
 
 
 
---
A: The legal tender in Germany is the Euro. Banks in Berlin are usually open:
Mon to Wed, Fri 8:00 am 'Äď 3:00 pm
Thu 8:00 am 'Äď 5:30 pm
Some branches are closed 12:30 'Äď 1:30 pm
In the city center many banks are open continuously from:
Mon to Wed, Fri 8:30 am 'Äď 3:00 pm
Thu 8:30 am 'Äď 5:30 pm
 
---
Q: How can I pay to register for ISMB/ECCB?
A: Delegates can pay on-line using the following credit cards: American Express, Mastercard or  Visa.
 
---
Q: How do I get from the airport to my hotel?
A: See Taxi information for transportation from the airport. You can also receive tourist information and assistance by contacting Berlin Tourism here
---
Q: Where do I register when I arrive?
A: Conference Registration is available from Thursday, July 18 to Tuesday, July 23  at the ICC Berlin. A complete registration schedule will be posted closer to the conference.
 
---
Q: Can I get a refund on the Germany Value Added Tax?
A: Value added tax (VAT) is a type of sales tax. In Germany the normal VAT rate of 19% is added to the net price. On certain products and services, such as books, staple foods (except soft drinks and spirits), newspapers, flowers and public transport tickets the reduced VAT rate of 7% is applied.
Travelers who liveoutside the European Union can obtain a refund on value added tax for goods bought in Germany. Save your receipts from your purchases. Get to the airport ahead of time when you are leaving. Before you check in your luggage, you can go the tax free shopping reclaim office and get your receipts stamped and obtain cash refund.
Details are available here
---
Q: What should I do if I lose something?
A: A lost and found will be located at the information booth located at the ICC Berlin.
 
---
Q: What are the registration/information desk hours at the conference?
Registration Desk Hours at the ICC Berlin
 
Thursday, July 18
Registration: ICC Berlin, Entrance Hall
3:00 p.m. - 6:00 p.m.
 
Friday, July 19 - Tuesday, July 23
Registration:  ICC Berlin, Entrance Hall
Friday, July 19 'Äst7:30 a.m. - 6:00 p.m.
Saturday, July 20 'Äst7:30 a.m. - 7:30 p.m.
Sunday, July 21 'Äst7:30 a.m. 'Äď 6:00 p.m.
Monday, July 22 'Äst7:30 a.m. - 6:00 p.m.
Tuesday, July 23 'Äst7:30 a.m. 'Äď 5:00 p.m.¬†
---
Q. Do you have a map of the ICC Berlin and the closest public transit connections?
 
 
---
 
 
Yes a printable PDF is available
here
.