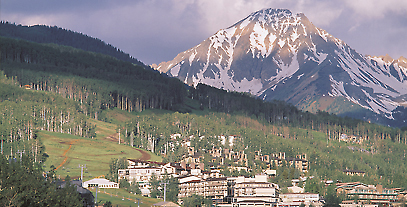 Silvertree Hotel is the location of the Rocky '06 meeting.
CONFERENCE LOCATION
The Silvertree Hotel is located in Snowmass Village, thirty feet from the Snowmass Conference Center and is on the Snowmass Village Mall and Fanny Hill. Snowmass Village Mall has more than fifty shops, boutiques, and restaurants, and is the hub for many exciting activitie. Fanny Hill offers direct access to ski lifts.

Transportation within Snowmass Village is easy and free, with frequent service at the Village Bus Stop. Buses to Aspen leave from the end of the mall.




THE SILVERSTREE HOTEL HOUSING INFORMATION

Web Site:
www.silvertreehotel.com

Physical Address:
100 Elbert Lane
Snowmass Village, Colorado 81615

Mailing Address:
PO Box 5009
Snowmass Village
Colorado 81615-5009

Phone: 970-923-3520
Guest Fax: 970-923-5192


Group Room Rates:
Single/Double occupancy $81.00 per night


Extra person charge is $25 per person per night.


Children under 12 stay free in parents' room. The hotel rates will be subject to all state, county and city taxes in effect at the time of of the ISCB meeting. State tax is currently 12.3% and is subject to change.


Please mention the Rocky 06 conference to get the group rate

Reservation Information:
Phone: 1-800-525-9402


A one night deposit of the room rate will be due at the time
of the reservation.


Cut-off date to receive reduced group rate is November 1, 2006.
After this date, rooms, if available, are at prevailing rates.


Check-in is 4:00 pm, Check-out is 10:00 am


Complimentary shuttle available from Aspen Airport to
Snowmass Village.