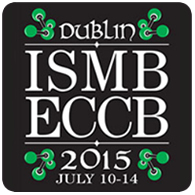 ISMB/ECCB 2015 Daily Digest

Day 2 - Monday, July 13, 2015


The second official day of ISMB/ECCB 2015 opened with greetings from the ECCB by Anna Tramontano and an enticing look at ECCB 2016's meeting location in The Hague, Netherlands by Jaap Heringa. Conference co-chair Janet Kelso introduced keynote speaker Eileen Furlong, who gave a talk titled "Genome regulation during embryonic development." The day's sessions were packed with great talks across all theme areas, and two special sessions on translational medicine informatics and data complexity that drew a lot of interest from conference delegates.
 
During the open business meeting, ISCB president Alfonso Valencia and other members of the  executive committee and board highlighted the society's endeavors to serve its members in multiple areas, including member services, meetings, and publications. ISCB Student Council members also spoke about their activities and recognized the student attendees to whom they awarded travel fellowships. The meeting finished with an opportunity for attendees to share their comments and ideas about different ways ISCB can serve its membership.
 
Conference co-chair Desmond Higgins introduced the day's second keynote speaker and Dubliner Kenneth Wolfe, who presented a talk titled "Reversible DNA rearrangement as a switch for cell type in yeasts." The keynote was followed by another successful poster session in the exhibit hall and the second day closed out with an evening out at the Guinness Storehouse. 
---