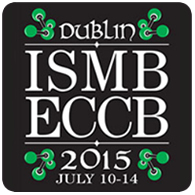 ISMB/ECCB 2015 Daily Digest

Day 1 - Sunday, July 12, 2015


ISCB president Alfonso Valencia opened ISMB/ECCB 2015 officially on Sunday, July 12 to a packed auditorium at the Convention Centre Dublin with an overview of ISCB's activities during the last year. Desmond Higgins, honorary conference chair and Dublin local, also welcomed delegates to his hometown, and Burkhard Rost, ISCB past-president, introduced the opening keynote speaker, Nobel Laureate Michael Levitt. Levitt captivated the audience with his talk titled, "Fun With Large Structures and Masses of Sequence," and shared his perspective of the early days of computational biology as well as his current work on the organization of chaperonin subunits.
 
Concurrent sessions started after the keynote address and have been organized by themes this year (Genes, Proteins, Systems, Disease, and Data) to make identifying relevant talks easier for attendees.
 
The 2015 class of ISCB Fellows was honored prior to the second keynote address. Rolf Apweiler, Cyrus Chothia, Julio Collado-Vides, Mark Gerstein, Desmond Higgins, Thomas Lengauer, Michael Levitt, and Burkhard Rost were conferred Fellow status for their outstanding contributions to the fields of computational biology and bioinformatics. Bonnie Berger, chair of the ISCB nominating committee introduced the second keynote speaker, Curtis Huttenhower who is the winner of the 2015 Overton Prize that recognizes the outstanding accomplishments an early career scientist in computational biology or bioinformatics. Huttenhower gave a talk titled, "Understanding microbial community function and the human microbiome in health and disease" and shared results from the diverse microbiome research projects coming out of his lab.
 
The first official day of ISCB/ECCB 2015 ended with a lively poster reception in the exhibit hall, where delegates talked science and browsed the latest offerings of exhibitors.
---