Brisbane (www.brisbanetourism.com.au)
Bright blue skies, warm sunshine, the vibrant colours of the sub tropics, the rhythm of a dynamic young city. Brisbane, capital of Queensland, Australia's 'Sunshine State', greets visitors with a warm and friendly welcome.
Brisbane is Australia's only sub tropical capital city. Sophisticated yet friendly, Brisbane is a year round city that enjoys warm, bright summers and clear mild winters. The hub of Australia's favourite holiday region, Brisbane is the perfect place to relax and enjoy the best of Australia. Over 1.6 million people call greater Brisbane home. More than 5 million people visit Brisbane every year, ranking the city Australia's third highest in terms of domestic visitors alone. Brisbane is also known as Australia's most liveable city…and for good reason.
A contemporary, energetic city that revels in its outdoor lifestyle, Brisbane's attractions, facilities and services are delivered with the Sunshine State's warmest welcome. Brisbane Airport provides a world class gateway to the region and beyond, with state of the art facilities and flight schedules that offer plenty of options. Australia's best beaches, the Gold and Sunshine Coasts, are on Brisbane's doorstep. So too are lush rainforests, mountain hinterland, wide open spaces and country, blue water bays, adventure experiences, world-class theme parks and some of the best shopping, dining and entertainment in the country.
When business is over, explore some of Brisbane's captivating attractions. Wander along the riverside precincts, the parks and heritage trails. Dine alfresco and taste the local delicacies and fresh seafood. Uncover the perfect indulgence while shopping or cool off with a swim in a tropical lagoon at South Bank. Enjoy the beautiful Brisbane River on board a fast CityCat ferry and feel the excitement of the city's nightclubs and Treasury Casino. You will find the tempo upbeat, the ambience welcoming and friendly as residents and visitors alike soak up the outdoor lifestyle.
Weather
Brisbane has an average of 243 sunny days per year! December to February is the warmest period while a mild 'winter' prevails from June to August. Average June-July weather for Brisbane typically has maximum daytime temperatures of 21°C, with minimum evening temperatures of 10°C.
Key Attractions
South Bank Parklands www.south-bank.net.au is Brisbane's oasis in the city. The 17-hectare parklands feature a one-kilometre stretch of recreational, dining and relaxation areas including Breaka Beach, Australia's only man-made inland city beach. South Bank is home to Friday evening and weekend arts and crafts markets; the eight-storey Imax cinema and Hoyts complex; the unique Arbour walkway and the newly opened Grey Street Boulevard.

Steve Irwin feeding Agro

Panoramic views of the city from its highest point, Mount Coot-tha, are stunning by day and especially at night. The lookout is a 15-minute drive from the city. The City Nights Tour takes in Mt Coot-tha and tours are also available for daytime viewing.
Brisbane's Lone Pine Koala Sanctuary www.koala.net is the largest and oldest koala colony in the world. Mirimar River Cruises to the sanctuary depart daily from North Quay (to the left of Victoria Bridge on the CBD side of the river).
A walking tour of the CBD and inner suburbs is a great way to see Brisbane's icons. One not to miss is the Conrad Treasury Casino in George Street, a beautifully restored heritage building which was once the centre of Queensland government.
Queensland's famous theme parks – Warner Bros. Movie World www.movieworld.com.au, and Dreamworld www.dreamworld.com.au, are 45 minutes from the CBD with bus and train transfers available. Sea World www.seaworld.com.au is around one hour south of Brisbane, on the Gold Coast, and Australia Zoo www.crocodilehunter.com, home of TV's famous crocodile hunter, is an hour to the north of Brisbane.
Brisbane is a young and vibrant city of fun and adventure. The city has hundreds of different attractions, a character all its own and is easy to get around and get to know.
Southern Queensland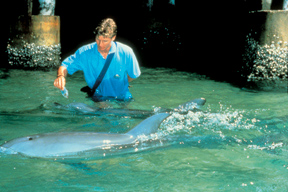 Hand Feeding of wild dolphins at Tangalooma, Moreton Island
Australia's Sunshine State of Queensland is a lifestyle paradise. There are treasures to discover in every direction, from unspoiled Moreton Bay and sub tropical islands to endless beaches, holiday coasts and rainforest national parks.
To the south of Brisbane is the colourful and exciting Gold Coast www.goldcoasttourism.com.au which is a region of contrasts. North of Brisbane, the Sunshine Coast www.sunshinecoast.org is a naturally perfect blend of beautiful scenery and relaxed lifestyle.
Visitors have a wide variety of activities to choose from in Southern Queensland. Moreton Island is Brisbane's water playground where you can hand feed wild dolphins. Travel just 40 minutes out of the city to one of Queensland's premier wineries and enjoy a wine tasting and gourmet food experience. Discover Aboriginal art and performance at galleries and venues throughout the region. Relax on the world's best beaches along the Gold Coast's sweeping 70km coastline, get your thrills at Australia's favourite theme parks, or play a round of golf at any of the Gold Coast's 40 Championship or resort courses. The Sunshine Coast is spectacular. Over one weekend visit, you can explore charming mountain-top craft villages, secluded sandy beaches, and coastal national parks while staying in the luxury of a stunning Queensland resort.
In this region you will find an unusual blend of action, adventure and relaxation - an abundance of activities where there is something for everyone.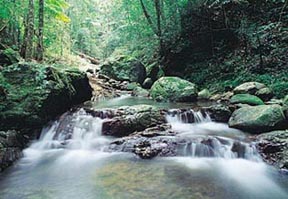 Subtropical Rainforest, Gold Coast Hinterland
Queensland

Queensland is where the world loves to work and play. All of Queensland's many destinations are easily accessible from Brisbane, so when business is over the choices are endless. The 'Sunshine State' has the deserved reputation of being beautiful one day, perfect the next, and its diversity will astonish you. Where else can you enjoy friendly yet sophisticated cities, the Great Barrier Reef www.whitsundaytourism.com, Australia's amazing Outback, World Heritage Rainforest and the Aussie beach culture?
Queensland is one of the world's great vacation destinations, from scorched western landscapes to untouched beaches and primeval rainforests. Queensland's reefs, rainforests and rural regions make the prefect start or finish to any conference.
Experience World Heritage listed Fraser Island's majestic rainforests, crystal clear freshwater lakes, and endless beaches on a 4WD tour. Head west to taste delights in Queensland's centre for wine and stone fruit orchards. Explore the Great Barrier Reef, one of the world's true living wonders, where clear lagoons and turquoise shallows surround a string of reefs filled with a myriad of colours and shapes. Experience the unique rugged Outback and search for your very own colourful Australian Opal.
Natural wonders and great cities with dining, shopping and nightlife combine for a rewarding experience of endless choices.
Australia www.atn.com.au
Uluru (Ayers Rock)
From the attractions of Brisbane and the surrounding region, delegates are well placed to explore the rest of Australia. There is an absolute feast of unique experiences and adventures in Australia waiting to tempt even the most seasoned traveller.
Australia's landscape is a picture of amazing diversity, contrasts and natural wonder. From the ancient rock Uluru (Ayers Rock) to the Great Barrier Reef, Australia's Red Centre reaches out to a magnificent azure coastline. Scattered across this beautiful environment, our thriving cities bubble with sophistication and energy. Brisbane, Queensland's vibrant sub tropical capital, Sydney and its magnificent harbour, and Melbourne with its heritage of arts, fashion and fine food, are just three of Australia's outstanding city destinations.
'Northern Territory' Australia, the world's smallest continent and largest island, is like nowhere else on earth. It is as big as mainland United States (excluding Alaska) but has only 18 million people. It is young, adventurous, stylish and friendly, has unique flora and fauna and a fantastic climate. Aussies (as the locals are called) enjoy sport, beaches, music, performing arts, outdoor cafes, pubs, gambling, multicultural restaurants and good friends. A rich cultural blend of fashion, languages and cuisine colours the streets of Australia's major cities.
Australia's diverse mix of environments and cultures offers an encounter like no other. Explore lively, sophisticated cities, experience the awe-inspiring beauty of Australia's natural wonders, discover the ancient mysteries of Aboriginal culture, and see and feel the rigours of life in the rugged Outback. Regardless of which path you take, Australia guarantees the experience of a lifetime!