{ C O N T E N T S }
Volume 8, Issue 2
President's Letter
Priority on Volunteerism
Advertising and Sponsorship
Sponsorship Opportunties

Dr. Ewan Birney
2005 Overton Prize Winner
Dr. Janet Thornton
Senior Scientist Accomplishment Award

Bioinformatics
Books List Online
PLoS Computational Biology
To Launch at ISMB 2005
Student Council Undertakes
Massive Action Plan
ISCB Student Travel
Fellowships Offered
Don't Miss Out!
ISMB 2006
The Beauty of Brazil
Magnificent Madrid to Host
ECCB 2005
Post Your Events and News
To the ISCB Website
President Elect
Elections Notice
Student Council Activities
During ISMB 2005
Student Symposium
Prior to ECCB 2005

New Student Council
Leadership Announced
Public Affairs & Policies
Committee Update
ACCESS NEWSLETTER ARCHIVES

DOWNLOAD THE PDF
Copyright © 2005 International Society for Computational Biology.
All rights reserved.
FASEB Updates

Submitted by Barbara Bryant, ISCB V.P. and Representative to the
FASEB Board of Directors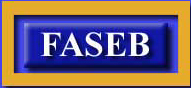 ISCB was represented in mid-June at the Federation of American Societies for Experimental Biology (FASEB) conference on the interface between academia, industry and government, with a focus on conflict of interest. This past year has seen much discussion of conflict of interest, such as the NIH ban on scientists receiving appreciable income from industry. NIH Director Elias Zerhouni gave a keynote address at the conference.

FASEB has lingering questions and concerns about the NIH enhanced public access policy, and has an active subcommittee working to clarify confusing aspects of the NIH rule and its implications for societies and journals. Currently the policy places responsibility for compliance with copyright law and journal policies with authors. Getting the correct version of the manuscript released is important. These and other issues show that there is an opportunity for scientific societies to provide recommendations to all the players as to how to best implement the goal of public access to scientific literature.

FASEB has been very active in support of stem cell research, and issued a call to members to support the Stem Cell Research Enhancement Act of 2005. So far this legislation has won approval in the U.S. House of Representatives, and is now in the U.S. Senate. If it passes there as well it seems it may still face an uphill battle as President Bush has vowed to veto any bill that crosses his desk that approves the use of embryonic stem cells.

FASEB is developing a response to the National Academy of Sciences "Bridges to Independence" report, and is examining data from NIH on training awards for 2004. We remain concerned about the trend toward fewer grants for young investigators, as well as the general slowdown or even decrease in the number and funding levels of peer-reviewed federal grants for science.

FASEB, along with a number of partner organizations, is advocating additional changes in U.S. visa policy to ease unnecessary bottlenecks and delays for international students and scholars.

A new FASEB subcommittee of the Science Policy Committee has been formed to address clinical research policy issues.

The American Physical Society has approached FAS E B about joining a coalition of scientific societies issuing a critique of "intelligent design" and reaffirming support for teaching of evolution in the elementary and secondary schools. This will be discussed further within FASEB as the statement matures.

Everyone is invited to visit the FASEB website at www.faseb.org and any ISCB member interested in participating in any of the above FASEB initiatives is encouraged to contact the ISCB Public Affairs and Policies Committee by writing to admin@iscb.org.