{ C O N T E N T S }
Volume 8, Issue 2
President's Letter
Priority on Volunteerism
Advertising and Sponsorship
Sponsorship Opportunties

Dr. Ewan Birney
2005 Overton Prize Winner
Dr. Janet Thornton
Senior Scientist Accomplishment Award

Bioinformatics
Books List Online
PLoS Computational Biology
To Launch at ISMB 2005
Student Council Undertakes
Massive Action Plan
ISCB Student Travel
Fellowships Offered
Don't Miss Out!
ISMB 2006
The Beauty of Brazil
Magnificent Madrid to Host
ECCB 2005
Post Your Events and News
To the ISCB Website
President Elect
Elections Notice
Student Council Activities
During ISMB 2005
Student Symposium
Prior to ECCB 2005

New Student Council
Leadership Announced
Public Affairs & Policies
Committee Update
ACCESS NEWSLETTER ARCHIVES

DOWNLOAD THE PDF
Copyright © 2005 International Society for Computational Biology.
All rights reserved.
PLoS Computational Biology to Launch at ISMB 2005

Philip Bourne, Editor-in-Chief
The launch of PLoS Computational Biology is only days away - June 24. The response thus far has been tremendous from the community.

The vision we have for the journal as a community resource is first and foremost to support the dissemination of our science in a way that draws attention to the quality, depth, and scope of our best work. That this is an open-access journal is an integral part of this vision. Open access ensures not only that everything we publish is immediately freely available to anyone, anywhere in the world, but also that the contents of this journal can be redistributed and reused in ways that increase their value. Computational biology thrives on open access to all types of biological data - it is high time that we apply the same principle to our papers and unleash our creativity to develop new ways to use the scientific literature.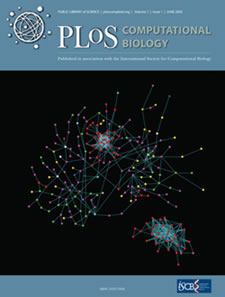 At ISMB, look for our Preview Issue. After that, the inaugural issue includes a Perspective from Sean Eddy on his belief that we are in the "ante"-disciplinary phase of our science - a time ahead of becoming an organized science and not to be confused with the push toward being "inter"-disciplinary, as many would have us become. This is followed by a series of research articles, including: Pagel et al. describe a method for determining pairs of functionally related genes and then use that method to study how these pairs are either gained or lost over evolutionary time; Margalit et al. report on the modeling of transcription factor binding sites and discover 29 such binding sites for C2H2 zinc-finger proteins in Drosophila melanogaster; and Ehrenberg et al. model ribosome-mediated transcriptional attenuation and explain the functional differences that result from the structural differences of the leader sequences of the trp and his operons.

Finally our vision for PLoS Computational Biology is that it will be vital to your work, and that your ideas and discoveries will become a vital part to this journal and, through open access, the community. We will continue to need you to submit your best work to the journal and encourage your colleagues to do so as well. Beyond that, recognize that we are a unique community in that we use information in novel ways. These are exciting times for biology and publishing. We hope to capitalize on this excitement, so do not hesitate to tell us what we should be doing by sending e-mail to ploscompbiol@plos.org. Visit www.ploscompbiol.org for complete information and to sign up for regular email alerts to newly published papers.