Social Events
Discover Toronto Orienteering Event & Icebreaker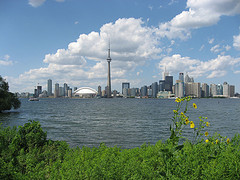 Saturday, July 19, 2008 - 6:00 p.m.
6:00 p.m. Depart: Metro Toronto Convention Centre -
Dress code: walking or hiking shoes, appropriate outdoor gear for the weather
Registration Fee: $10.00
Discover Toronto during this hour-long fun-filled activity (plus travel time). Your team will navigate, at your own pace, to find locations on a map. This ISMB tradition is a variant of the sport of orienteering, and an instance of an NP-complete problem! An opportunity to get outdoors, to meet your colleagues and to enjoy some exercise. Friends and family are encouraged to come along. Full details will be available closer to the event. Plan now to attend!

ISMB 2008 Orienteering Participants:

Chris Bystroff, Patrick Buck, Rich Bonnean, Alex Greenfield, Aviv Madar, Thadeous Kacmarczyk, Priit Adler, Sebastian Kelm
Emily Holman, Liam Holman, Alex Holman
Russell Schwartz, Herve Manager, Bertrand Neron, Ramneek Gupta, Daniel Edsgard
Hagen Blankenburg, Hongbo Zhu
Bob Fraser, Amy Vanberlo, Geoff Macintyre, Michael Sierk, Mireille Gomes, Robert Fraser, Rikard Erlandsson, Judith Cohn
Cory Strope, Bo Xu, Peter Munson, Jennifer Barb
Ken Yamakura, Ying Zhang, Matt Wei
Steffen Heyne, Anke Busch, Hamish McWilliam, Franck Valentin, Thomas Laurent, Clane Sansom, Toby Mathieson
Edwin Kamau, Shweta Shah, Stefan Schulz, Jessica Wehner
Pavel Durek, Roman Klinger, David Ruau
Urus Petrovic, Philip Groth, Bertram Weiss
Lan Li, Cynthia Jeffries
Leong Yi Li, Hongwai Leong
Yong Li, Fuxiao Xin, Karen Dowell
Mary Dolan, Li Ni, Karin Verspoor
Rileen Sinha
Dong Fu, Christian Solis Calero, Bastien Chevreux, Ann-Lavre Abrahan
Hazem Ahmed, Meghana Chitale, David Armisen, Nicolas Tsesmetzis
Allison Regier, Sirarat Sarntivijai, Viktoriya Strumba, Dmitriy Strumba
Srikanth Jammulapati, Shirley Wu, Joyce Kao, Michael Moorhouse, Heather Gamble, Victor de Jager, Simon Lin, Chin-Hsien Tai
Han-Yu Chuong, Angel Fang, Chia-Ling Hsieh
Richard McIndoe, Darabou Christian, Man-Hung Eric Tang, Nanjiang Shu, An-Kwok Ian Wong, Isabelle da Piedade
Kousik Kundu, Sapet, Maralo Brandau, Deyou Zheng
Aurora Labastida, Tejumoluwa Abegunde, Yana Bromberg, Alessandro Senes
Ramez Mina, Dhundy Bastola, Hesham Ali, Michael C. Piuntedosi, Sean O'Donoghue, Dorothea Emig, Armin Deffur
Adam Krankisk, Tina Eyre, Aviad Tsherniak, Fatima Al-Shahrour, Maura Kak, Ramiro Barrantes
Mariam Nersisyan, Eduard Danjelyan
Guy Zinman, Matthias Reimann, Royer Loic, Peter Waltman
117 Total participants




Matrix Party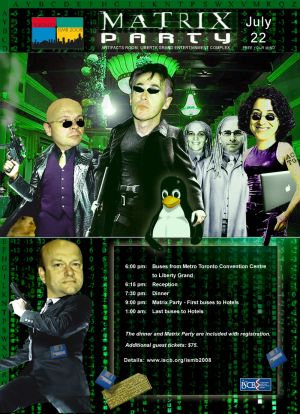 A fun night in one of Toronto's historic buildings. Evening includes local entertainment, dinner and an after dinner dance party.
The Matrix
Depart: 6:00 p.m. from Metro Toronto Convention Centre
Reception: 6:15 p.m. 7:15 p.m.
Dinner: 7:15 9:00 p.m.
Matrix Party: 9:00 p.m. 1:00 a.m.
The dinner and Matrix party are included in conference registration and additional guest tickets can be purchased for $75.00 during the on-line registration process.
Shuttle Service available to and from the Liberty Grand and Conference Hotels.