ECCB 2002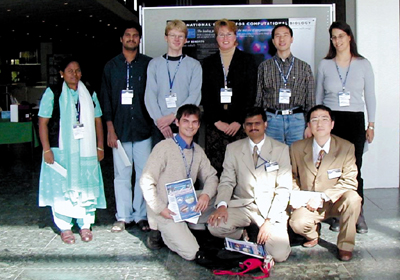 ISCB Travel Fellowship Recipients and Executive Officer (clockwise from far left): Mallika Veeramalai, Sivakumar Kannan, Markus Wistrand, BJ Morrison McKay, Ming Chen, Einat Sitbon, Bin Hu, B.V.L.S. Prasad, Laszlo Kajan, (not pictured: Englebert Mephu Nguifo)
The first European Conference on Computational Biology (ECCB) took place in Saarbrücken, Germany, October 8-10, 2002. As a new international conference in the ever-widening circuit of bioinformatics meetings, ECCB was proud to host 459 attendees representing 30 countries around the globe. In his opening address, Thomas Lengauer, former ISCB vice president and ECCB 2002 conference chair said, "I think it can be safely said that the ECCB conference series stands on firm ground."

The idea for holding a European conference originated with Martin Vingron, who believed that each of the European national conferences could be elevated to become the ECCB on a rotational basis, drawing increased attention and attendance. "Some of the national conferences are already quite large and interesting, such as the Nordic countries, the United Kingdom, France, Germany, and others in Italy and Spain are growing fast," said Alfonso Valencia, ISCB board member. "From political and scientific points of view it is clear that this will increase the visibility of the area and improve the quality of the national conferences." ECCB 2002 was a merged effort of the annual German Conference on Bioinformatics. The French Conference on Computational Biology, known as JOBIM, will rise to the occasion of hosting ECCB in Paris, September 27-30, 2003. In all cases, the official language of the ECCB conference series will be English, which is a break from tradition for some of the national conferences involved.

Promising to illuminate many different corners of this field, the three-day conference program featured 26 talks selected from 83 paper submissions, and eight internationally renowned invited speakers who presented the state of the art in their fields of research. As Lengauer said, "Some of them are computational biologists. Others are biologists that provide the experimental groundwork for computational biology research. In short, computational biology is a wide and interdisciplinary field." In addition, 190 posters reflecting the current state of ongoing projects were available for all attendees to view throughout the conference.

ISCB board members Søren Brunak and Alfonso Valencia were among the session chairs, and ISCB President, Philip Bourne, presented a paper. Both Bourne and ISCB Executive Officer, BJ Morrison McKay, addressed the group with information and updates about our Society's continued membership growth, new initiatives, and interactions with affiliated groups and conferences worldwide. McKay also had the pleasure of distributing nine travel fellowships from ISCB to member students from around the globe to help make it possible for them to attend ECCB.

Discussions are now underway to share ideas of how ISCB and ECCB can further support one another's efforts. As a stated goal of the ISCB is "to increase understanding of the significance of our endeavor in the larger scientific community, government, and the public at large," increased interactions with affiliated regional groups and conferences in all regions of the world will certainly help to advance that goal on a truly international scale. Not only is it certain that ECCB stands on firm ground, but computational biology is firmly planted as a scientific discipline, and the more the Society can all contribute to its awareness, the stronger we will grow as a scientific community. The ISCB is pleased to have participated in this new European conference series, and hope to continue to play a part as it flourishes in the years ahead.