{ C O N T E N T S }
Volume 7, Issue 3
David Lipman
Senior Scientist Accomplishment Award
Israeli Bioinformatics Symposium
MARC Visiting Scientist Program
5th International Conference on Systems Biology in Heidelberg October 9 - 13, 2004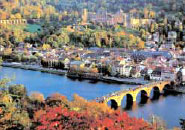 The 5th International Conference on Systems Biology (ICSB) 2004 will take place in picturesque Heidelberg during the peak of fall foliage in October, adding a multitude of colour to an already splendid city and much anticipated conference. ICSB 2004 will continue a series of annual conferences on Systems Biology that was initiated by Hiroaki Kitano in 2000 in Tokyo. Since then the ICSB conferences have grown to one of the most important international academic conferences with a focus on systems biology. Again in 2004, the event will be an excellent occasion to review and engage in the current status of this field.

Prior to the conference presentation programme, the 9th and 10th October 2004 will offer the opportunity to participate in tutorials and workshops for in-depth study of systems biology topics. This event will be hosted by the German Cancer Research Center (DKFZ) in Heidelberg.

From October 11 on, the conference programme will offer 40 top notch lectures and presentations in the historic building of the Heidelberg Convention Center, located reverine to the Neckar in the old town of Heidelberg. Invited speakers are Denis Noble, Bernhard O. Palsson, Marc Kirschner, Philip Kuchel, Hermann-Georg Holzhütter; Jan Ellenberg, Howard Petty, Pedro Mendes, Michael Surette, Masaru Tomita, Reinhart Heinrich, Upinda S. Bhalla, Barbara Bakker, Jens Nielsen, and Yuri Lazebnik. Beside this invited speakers panel additional presenters were selected by an international scientific committee that has reviewed over 300 abstract submissions. Accordingly the ICSB 2004 will offer a poster presentation programme with about 250 posters in combination with a company exhibition that reflects the market potential of systems biology in the 21st century.

Details on the conference programme as well as application procedures for last minute posters, poster awards, registration and social programme information, or details of the company exhibition can be found on the website www.icsb2004.org

The ICSB 2004 will reflect the long tradition in modern research and science in Heidelberg. Its Ruperto-Carola University is together with the European Molecular Biology Laboratory (EMBL) and the German Cancer Research Center (DKFZ) among the 25 top life science research institutions worldwide. Several biotechnology companies with a strong focus on Systems Biology round out the strong position of Heidelberg in the fields of genomics, functional genomics and systems biology.

Beside these highlights Heidelberg has to offer a lot of sight-seeing and gastronomic delights, wining and dining for conference participants. Especially the old town and castle of Heidelberg made it a center for German Romanticism and a main attraction for international tourists visiting Germany.
The organizers of ICSB 2004 are looking forward to welcoming you in Heidelberg!