{ C O N T E N T S }
Volume 8, Issue 1
President's Column
2005 Membership Registration
Don't Delay!
ISMB 2005
Bound To Be the Best Yet
SIG Meetings
Kick-Off ISMB 2005
ISCB Thanks Sun
for Continued Support
KEY DATES
RECOMB, ISMB, ECCB
PLoS Computational Biology
Exciting Open Access Journal
Student Council
Announcements & Updates
Travel Fellowships Offered
Deadlines Approaching Fast
Immigration Workshop
April 16, 2005 in San Diego
SCCB Computational Biology
Hebrew University of Jerusalem

News from the Field
Events & Opportunities





ACCESS NEWSLETTER ARCHIVES



Copyright © 2005
International Society for Computational Biology.
All rights reserved.
PLoS Computational Biology
- A New Official ISCB Journal Launching Soon

Submitted by Phil Bourne, Editor in Chief, PLoS Computational Biology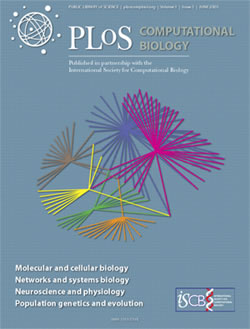 It is with great pleasure that the ISCB announces the launch of PLoS Computational Biology, published in partnership by the Public Library of Science (PLoS). An open access, peer-reviewed journal publishing significant biological advances that arise through computation, PLoS Computational Biology officially commences publication in June, 2005 at ISCB's 13th Annual International Conference on Intelligent Systems for Molecular Biology (ISMB 2005). We are now accepting submissions and are writing to ask that you submit your best computational biology research to this exciting new community resource.
PLoS Computational Biology is something different at an important time in the evolution of our field. Computational methods are playing an increasingly central role in diverse areas of biological inquiry. PLoS Computational Biology is a journal of broad scope regarding biological scales, with computation at its heart. Until now, there has been no single publication that focuses on the important contributions to the understanding of living systems afforded by computation. The Editors and the Advisory Board are committed to offering a recognized single venue for high quality works with real biological outcomes that can be appreciated by experimentalists working at different biological scales, perhaps to the point of adopting the methods presented in their own work.
Coupled with immediate free access to all content, PLoS Computational Biology provides an excellent consultative system of peer review, in which a team of leading academic editors generate constructive and efficient feedback. PLoS Computational Biology is accessible to all, and immediately searchable via PubMed. In addition, you retain the copyrights, and give the broadest possible audience—scientists all over the world—the ability to read, copy and use your findings in their own setting. Submitted papers receive an initial review for suitability for the journal within 2-4 working days. If suitable, a complete review is returned within 3-4 weeks.
The most important aspect of PLoS Computational Biology is that the quality, content, and ultimate responsibility for these journals rests with us—the scientific community. Leading researchers orchestrate the peer review of the best science with editorial support from PLoS staff. Concurrently, computational and information scientists are poised to make the most of the digital medium. Join us in creating the next generation of scholarly journals by submitting your papers. For ongoing information about this journal and research publication alerts, sign up at: http://www.ploscompbiol.org. If you would like to send a presubmission inquiry to find out whether your paper might be appropriate for PLoS Computational Biology, now is a great time to get in touch. Send us an e-mail at ploscompbiol@plos.org.
On a personal note, as a past president of ISCB and former chair of the ISCB Publications Committee, I see a relationship between journals and a scientific society as the best opportunity for wide dissemination of our science to a broad audience. I believe this new relationship will, on one hand, take the society in new directions, and on the other, lead to a stronger journal because of membership support. Exciting times indeed.