LOCAL INFORMATION
---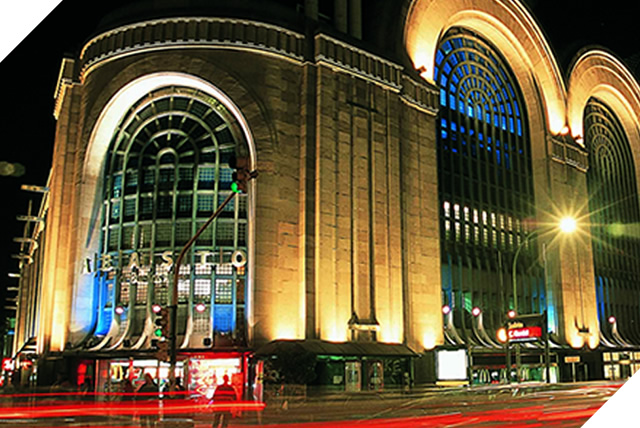 © Ministry of Tourism of Argentina
This section provides relevant information for ISCB-LA 2016 attendees to check in advance of their visit. For further advice in your language of choice you may check Buenos Aires' and Argentina's sections on
TripAdvisor
• www.tripadvisor.com/Tourism-g312740Capital_Federal_District-Vacations.html
• www.tripadvisor.com/Tourism-g294266-Argentina-Vacations.html

Lonely Planet
• www.lonelyplanet.com/argentina/buenos-aires
• www.lonelyplanet.com/argentina
---
Places to Visit
The City of Buenos Aires
The City of Buenos Aires (Ciudad de Buenos Aires) is the capital city of Argentina. It is the second largest city in Latin America (after Sao Paulo, Brazil), home of 3 million "porteños" with 14 million people living in the Greater Buenos Aires area. It is located on the southern shores of the Rio de la Plata river, deep on the South American continent, where the strong influence of European immigrants has given the city its nickname "the Paris of South America".

Buenos Aires boasts a friendly and open atmosphere, with a large variety of cultural activities to suit all tastes and budgets: beautiful public spaces and top-notch indoor expositions; highly praised classical concerts and modern massive shows; sports to enjoy from a seat or take an active part in, these all enjoy dedicated venues and an active agenda. It is a busy and active working city during the day that stays up late into the night. Restaurants, pubs, cinemas and theatres are typically open until midnight, even selected museums and libraries can be enjoyed late into the night. From Wednesdays to Sundays, crowded discotheques and vibrant pubs extend the fun until the sun comes up again.

Where to go / Things to Do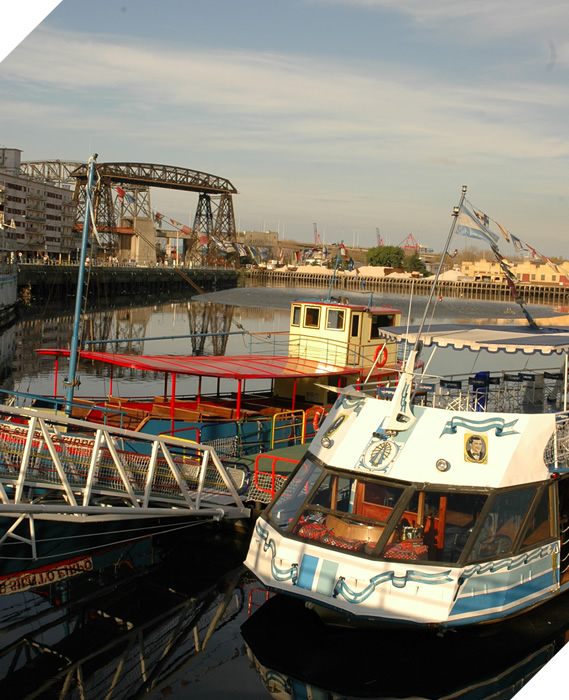 © Ministry of Tourism of Argentina
• Teatro Colón (Opera house, www.teatrocolon.org.ar/) -ranked the third best opera house in the world by National Geographic, and is acoustically considered to be amongst the five best concert venues in the world.
• Casa Rosada ('Pink House', Government house) -- https://en.wikipedia.org/wiki/Casa_Rosada
• Cementerio de la Recoleta (Recoleta Cemetery)
• Barrio de La Boca (La Boca neighborhood)
• Barrio San Telmo (San Telmo neighborhood)
• Barrio de Palermo (Palermo neighborhood)
• Museo de Arte Latinoamericano de Buenos Aires (MALBA) (Buenos Aires Museum of Latin American Art)
• Museo Nacional de Bellas Artes (National Museum of Fine Arts)
• Estadios de River Plate y Boca Juniors (River Plate and Boca Juniors Football Stadiums)
Check also Lonely Planet's and Tripadvisor's Things to Do in Buenos Aires
• www.lonelyplanet.com/argentina/buenos-aires
• www.tripadvisor.com/Attractions-g312741-Activities-Buenos_Aires_Capital_Federal_District.html
Visiting Argentina
Attending a conference in Buenos Aires is a great opportunity to explore the country, with direct flights to most touristic sites in the country. Whether you love the modern and active city life or prefer to relax on the countryside, or just love nature and wildlife, you could never get bored in Argentina. From the wonderful Patagonia, with its rivers, stunning peaks of the Andes and native fauna in its coastline, the glaciers in Calafate, to the vineyards of Mendoza; or from the tropical weather of the Iguazú Falls (one of the Natural Seven Wonders of the World) to the rustic and overwhelming colors of the arid Puna landscape, the country offers a wide spectrum of climates and scenarios to suit all tastes. Please note that given the size of the country, and the distances between these different locations, visitors will most likely need to fly to these destinations.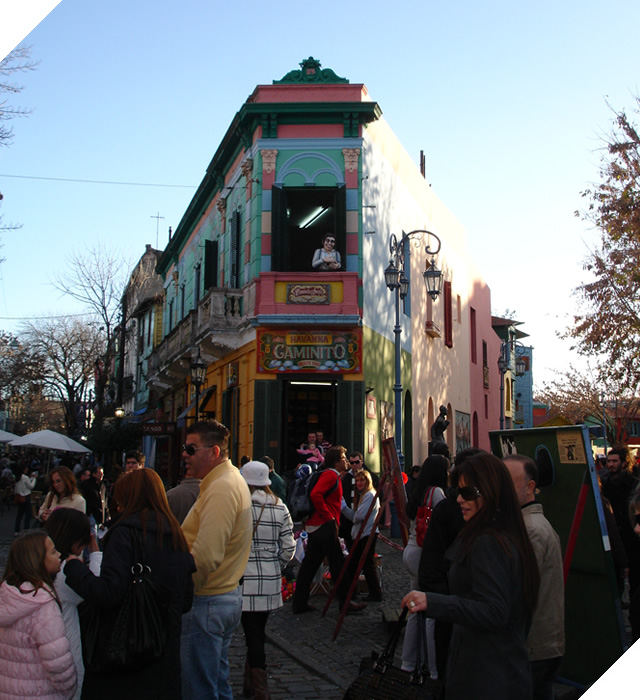 © Ministry of Tourism of Argentina
Where to go Outside Buenos Aires - Explore Argentina
• Patagonia - Bariloche, Villa La Angostura, San Martin de los Andes (Seven Lakes region). This is the western side of Patagonia (Andes Mountains, Lakes, Valdivian and Magellanic forests) where you can enjoy trekking, rafting, kayaking, camping, fishing.
• Patagonia - Peninsula Valdés, Puerto Madryn. Nearly the entire Patagonian coastline abounds in wildlife, with elephant seals, penguins, sea lions, and birds. Peninsula Valdes is, by far, one of the best places in the world for the observation of whales (whale watching season extends to December).
• Cataratas de Iguazú (Iguazú Falls), Misiones - One of the seven wonders of the world.
Mendoza and San Juan (Cuyo region) -- is the place where all famous Argentinian wines are produced. Here you can enjoy nice mountain landscapes, rivers (rafting), trekking, wineries and excellent wine and gastronomic tours.
• Salta, Jujuy - another of the wonders of Argentina is the arid high Puna region, with stunning colors and landscapes of the North, and its high altitude lakes and salars.
• Usuhaia - the southernmost city of the world, and Calafate, are ideal destinations to visit and explore nature at the end of the continent, navigate the Beagle channel, and explore glaciers and stunning natural landscapes of Argentina and Chile.
Conference Travel Information
This section provides some useful tips on how to move around Buenos Aires safely and effectively. For more comprehensive information, an excellent resource is the official website of the Entity of Tourism of the City of Buenos Aires: www.turismo.buenosaires.gob.ar/

Transportation
Moving around in Buenos Aires is very easy. Because Buenos Aires is a big city you won't be at walking distance from every place of interest, but fortunately public transport reaches all corners and extends into the surroundings. If driving, please be advised that traffic can get very bad at peak times (especially in the city center) and that the driving style might be a bit aggressive.

If you will use public transport even moderately, you should buy a SUBE card pass and load it with some pesos. It costs $25 (as of March 2016) and can be ordered online (www.sube.gob.ar/) or bought at selected stores and refreshment stands (www.sube.gob.ar/CentrosSUBE.aspx?solapa=1). It can be reloaded as needed from the same and many more stores. Use of SUBE may reduce the trip cost and is certainly more convenient than carrying coins. The system tells you how many pesos are left each time you tap it and it can be used on the bus, subway and urban train system.

Buses
Buenos Aires has an extensive bus system that can take you literally anywhere in the city, although its use can be daunting. There can be different routes for the same bus lines, and if you don't pay attention to the sign on the lower left hand corner of the windscreen detailing its routing, you may be in for a surprise. This being said, the system works and is happily used by many hundreds of thousands of commuters daily.

Buses in Buenos Aires do not automatically stop when they see passengers waiting at one of their designated stops: you must flag them down by showing the driver the palm of your hand, as if you were gesturing him to stop or slow down. Once you board the bus, tell the driver your destination (cross streets or point of interest) who will program the automatic machine with the correct fare according to the length of your trip. Once your fare has been determined, swipe your SUBE card on the reader next to the driver, wait for the machine to confirm the operation, find a seat and enjoy the view. If you don't have SUBE you may use coins on the machine but it does not accept paper currency nor provides change. If a ticket is dispensed, keep it in case the bus inspector makes his rounds. To get off the bus, push one of the red buttons attached to the rails, head to the exit door and wait for the bus to fully stop before descending.

Subway/Underground ('Subte')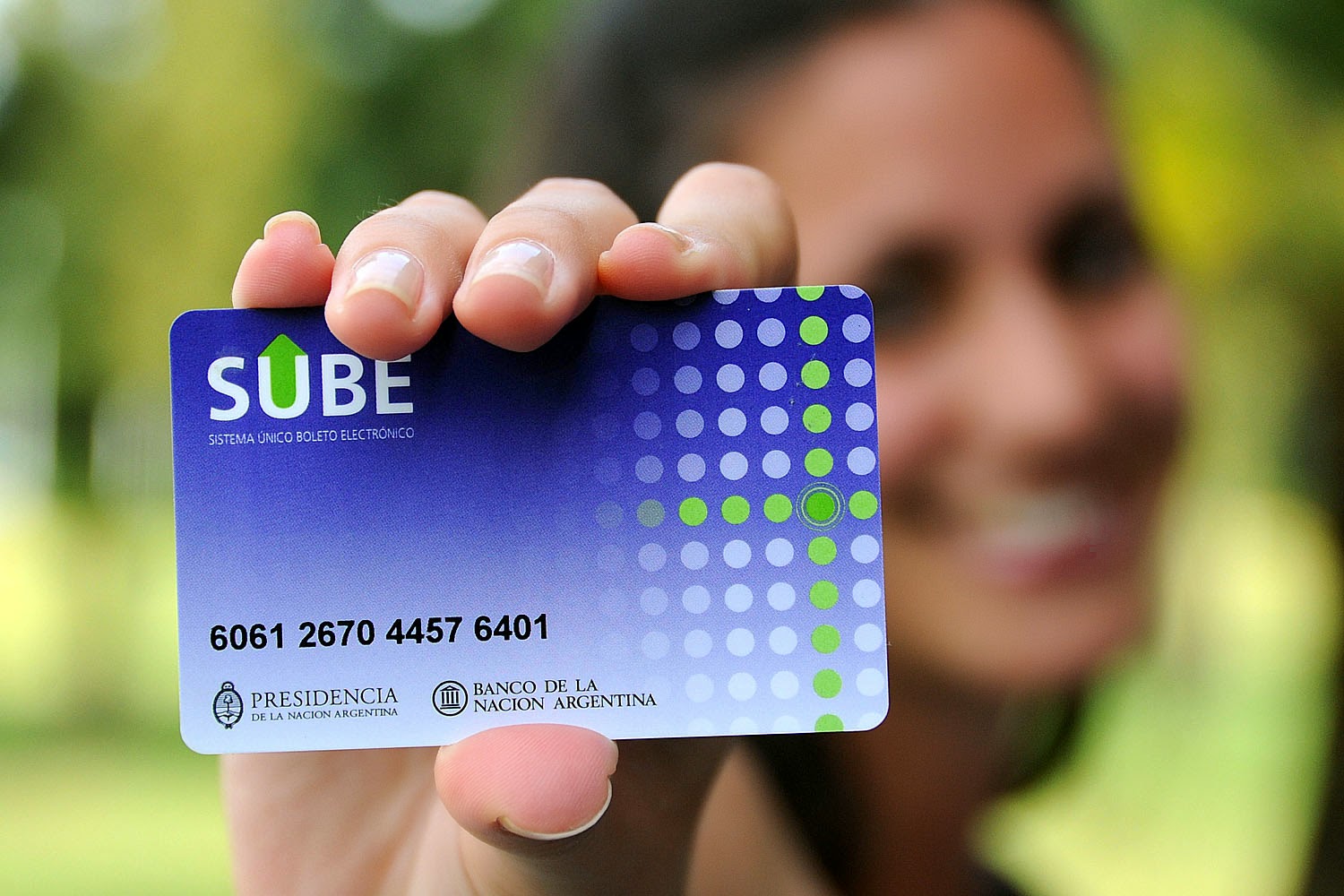 The Buenos Aires Underground is locally known as 'Subte' (after 'Subterráneo'). The current network serves the metropolitan area of Buenos Aires and comprises 85 stations from 6 major lines: A (light blue), B (red), C (blue), D (green), E (purple), and H (yellow). It reaches most places of interest around the city and is the fastest way to move around. To use the Subte just look for the station entry at the street level, swipe your SUBE card at the turnstiles and descend to the platform (there are 1-sided and 2-sided platforms so check the direction in the signs before taking the stairs). Subte stations collectively constitute a rich underground museum, featuring around 400 artworks from local artists of all trends: historic murals, modern abstract art, representations of popular icons and beloved cartoons... Subte is also home to talented musicians and performers who may be showcasing their art at the turn of any corner.

Taxis
Buenos Aires is easy to manage on bus or subway but hailing a cab is a good choice on hard days (services running late, bad weather and Union strikes are commonplace). You can flag down a black and yellow vehicle on every avenue and almost any street or simple call a 'radio taxi' that will pick you up.Traveling by taxi is quite affordable. The drop rate (as of March 2016) is 20.00 pesos (about 1.30 USD) and adds 2.00 pesos per 200 meters or one-minute wait. Rates are 20% higher between 10pm and 6am. If you'd like to get an estimate about how much your journey should cost ahead of time check out the website http://viajoentaxi.com.ar. Keep in mind, it all depends on traffic!

As an alternative to a taxi you can get a 'remise' (or 'remis') from a dedicated agency. These are private cars with a driver who will charge you a fix rate known in advance.

Cycling
Because Buenos Aires is almost completely flat with a network of bike lanes now covering more than 130km, cycling is often the quickest and always the most pleasurable way to get around the city. Public bicycles from the EcoBici Sharing System can be borrowed 24/7 from multiple bike stations across the city and for up to an hour. For more information check /www.turismo.buenosaires.gob.ar/en/article/cycling-ba

Maps
Different official tourist apps can be downloaded from www.turismo.buenosaires.gob.ar/en/article/ba-tourist-maps-apps to both Android and iOS mobile devices. These are very useful for navigating the city as they provide information on public transport,

In particular, there is a government-provided website at http://mapa.buenosaires.gob.ar (Spanish only) which allows you to enter your starting and ending addresses and get a list of travel options using both the bus and subway systems. It informs where to catch them, which connections to make and if any walking is needed. The travel time for each option is provided, but there is no time schedule provided (public transport timetables in Buenos Aires are not entirely reliable). Note that this website tells you to go to an intersection to find a bus stop, but these are often down the street, so in two-way streets it's useful to note which direction the bus is going so you can walk down accordingly.

A high-resolution map of streets and major attractions accessible from Subte stations is available at www.metrovias.com.ar/Subterraneos/StaticPage/Mapa-de-la-Red/Mapa-de-la-red/3365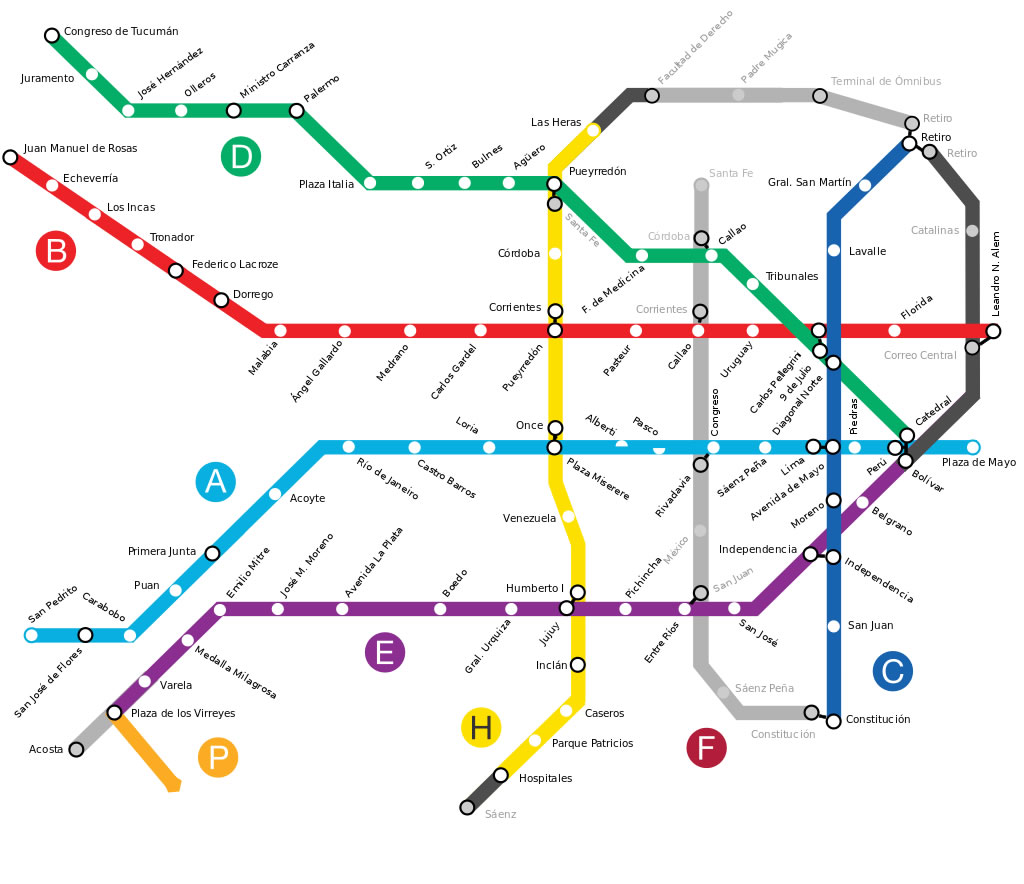 ---