SUBMISSIONS INFORMATION
---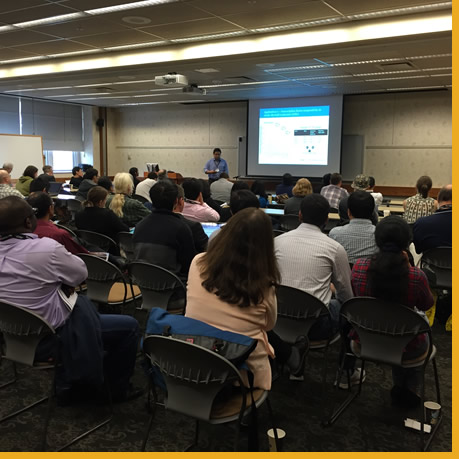 Full length papers and abstracts are solicited for oral and poster presentations at the 11th Great Lakes Bioinformatics Conference (an official conference of the International Society for Computational Biology) and 1st Canadian Computational Biology Conference. This call is an invitation to scientists and professionals working in the fields of bioinformatics and computational biology to submit high quality original research papers for presentation at GLBIO/CCBC 2016.
Accepted full length papers will be considered for publication in PLOS ONE (see details below).

A wide definition and inclusion of bioinformatics/computational biology will be considered, and topics of interest include the following:
Algorithms & Machine Learning
Bioinformatics Education
Biostatistics
Cheminformatics
Clinical & Health Informatics
Data Science
Databases, Ontologies & Biocurtion
Disease Models & Molecular Medicine
Epidemiology & Biodiversity
Evolutionary & Comparative Genomics
Gene Regulation & Transcriptomics
Genome Informatics
Image Analysis
Metagenomics & Microbiome Informatics
Macromolecular Structure & Function
Network Biology
Phylogenetics/Phylogenomics
Proteomics & Metabolomics
Sequence Analysis
Synthetic Biology
Systems Modeling
Text Mining & Natural Language Processing
Visualization


Key dates: Click here.

Conference website: www.iscb.org/glbioccbc2016

Submission website: https://easychair.org/conferences/?conf=glbioccbc2016

PLOS ONE Submission Information: - Initial full paper submissions to GLBIO/CCBC 2016 should follow PLOS ONE guidelines (available at: http://journals.plos.org/plosone/s/submission-guidelines). Authors of all full papers that are accepted for oral talks at the conference will be considered for publication in a PLOS ONE Collection devoted to the conference proceedings. Authors who decide to proceed with this option are expected to address prior to the PLOS ONE submission the reviewers' comments received during the GLBIO/CCBC review process. Then, such revised papers will be subject to additional peer review by the journal. If there is need for this, it is the PLOS ONE editorial staff that will handle the additional reviews and make final publication decisions, likely in consultation with the GLBIO/CCBC 2016 Proceedings Chairs. Whenever possible, the same reviewers that have participated in the GLBIO/CCBC review process will be asked to also participate in the PLOS ONE review process. Authors are responsible for any fees or expenses in regards to the PLOS ONE Collection publication of their paper (info available at: http://collections.plos.org/s/finances-for-special-collections).

Abstracts for Oral Presentation/Poster Information: - Abstracts for Oral Presentations and Abstracts for Posters submissions to GLBIO/CCBC 2016 should be half a page in length (approximately 300 words) and have no figures.
All accepted abstracts will have the chance to publish their work in the ISCB Community Journal and will be contacted after acceptance about this opportunity.
We also encourage all participants to submit their posters and slides (for free) to The Great Lakes Bioinformatics Conference (GLBIO) conference channel in the ISCB Community Journal.

Poster Display Size: - When preparing accepted posters please note that your poster should not exceed the following dimensions: 46 inches wide by 45 inches high. There will be 2 posters per side on the each poster board.

For any GLBIO/CCBC questions, please contact: Bel Hanson, ISCB Conference Manager, at This email address is being protected from spambots. You need JavaScript enabled to view it. or This email address is being protected from spambots. You need JavaScript enabled to view it.
---