{ C O N T E N T S }
Volume 10, Issue 1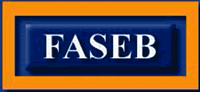 FASEB Update

Submitted by Barbara Bryant, ISCB representative to the FASEB Board of Directors

ISCB is a member society of the Federation of American Societies for Experimental Biology (FASEB). We joined FASEB in order to provide our members with a voice in the US Government on issues relating to science policy. The ISCB Public Affairs Committee is seeking people to help develop similar arrangements in other countries.

FASEB has had a significant impact on US science policy in the past year, thanks to an excellent staff, the mobilization of thousands of FASEB scientists, and the respect the federation is given on Capitol Hill. The NIH Reform Act was passed in December 2006, and FASEB played a role in shaping the legislation to meet the concerns of scientists. FASEB mobilized scientists to support increased funding for science; In early 2007 this paid off when Congress passed the FY 2007 Joint Funding Resolution that contained a $619 million increase for the NIH plus major increases in funding for NSF and DOE. A Nature editorial cited FASEB's advocacy efforts as a major factor contributing to this outcome.

FASEB is supporting the Genetic Information Nondescrimination Act. The organization also has a focus on conflict of interest, and is producing a white paper about the issue across academia, government and industry. FASEB took a number of actions in support of peer-reviewed, investigator-initiated research. A subcommittee of the FASEB Science Policy Committee has been very active in the past couple of years in support of evolution education in primary and secondary school. FASEB provides tools to help each of us advocate for scientific research and science policy. See opa.faseb.org for information.

FASEB administers a large grant to help U.S. citizen and permanent resident minority students with the costs of attending conferences, including ISMB and Rocky. See marc.faseb.org/pages/page2a.htm for information.