{ C O N T E N T S }
Volume 10, Issue 1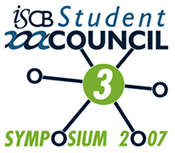 Third Student Symposium

The 3rd ISCB Student Council Symposium is being held Saturday, July 21st, in parallel to the ISMB/ECCB 2007 tutorial sessions in Vienna. Manuel Corpas and Nils Gehlenborg serve as Chairs, with Sarath Chandra Janga serving as Program Chair. Together with a program committee of 29 ISCB-SC members, they have created this event especially for students and young researchers in the field of computational biology. The program consists of:
Keynote presentations by Janet Thornton and Anna Tramontano;

Talks by 9 students/post docs selected from among 69 peer reviewed abstracts;

A panel discussion with Rita Casadio, Thomas Lengauer and Tan Tin Wee;

A poster session of over 40 posters;

And closing remarks by Reinhard Schneider
The symposium presents a unique opportunity for students/post docs to present their work to an international audience, build a network within the computational biology community and develop important soft skills in an environment that fosters exchange of ideas and knowledge. Over 100 delegates have already signed up, and on-site registration is allowed on a first come first served basis, space permitting.
Additional details about the SCS3 can be found at www.iscbsc.org, and online
registration is available at www.iwcb.org/ismbeccb2007/registration.

Student Council Symposium Review

Submitted by Nils Gehlenborg, Active Leader of the ISCB Student Council

As of this writing, the SCS3 (see column to the left) has achieved the following
pre-symposium statistics:
More than 100 delegates are registered.

Approximately $7500 has been raised from 5 sponsors.

3 awards have been secured for best presentation (1), and best poster (2).

69 abstracts were received through the submission system for review (68 accepted, 1 rejected).

8 student abstracts have been selected and confirmed for oral presentation.

15 people have served on the organizing committee.

29 people have served on the program committee.

More than 4 months of preparation has gone into organizing the event.
What's new this year for SCS3?

$780 in travel fellowship funds have been awarded to each of 5 European
undergraduate/masters students based on abstract, merits and community
involvement.
A survey identified popular keynote speakers.

A panel discussion has been organized with 5 high-profile scientists.

The program booklet includes 34 pages, including all
68 abstracts.

The symposium series now has its own logo.

Publication of top 10 abstracts is very likely as sufficient funds have been raised for this.
Other noteworthy news:
The ISCB-SC is an Event Ambassador for The Source Event (www.thesourceevent.com), a science and career fair in London.
A letter written by people at the Sanger Institute that will appear in Nature Reviews Genetics mentions the Student Council Symposium as an example for student-run conferences.
All in all, the entire SC Leadership is very excited and extremely proud of what we have already accomplished for our event at ISMB/ECCB 2007, and look forward to a these months of effort come to a successful conclusion in Vienna. Of course, that simply marks the time to start planning for the next one, building a better program with each passing year. We hope you will join us.