{ C O N T E N T S }
Volume 11, Issue 1
ISCB Honors
David Haussler
& Aviv Regev
The ISMB Organization
& Future Vision
PLoS Computational Biology Overview
11th Israeli Bioinformatics
Symposium Report
Taking a Stand on Software Sharing
ISCB Members Speak Out on US Entry Visa Issues
ISCB's New Software
Sharing Statement
MentorNet Report Card: Year Two
In Memory of
Kamalakar-Rao Mettani
Cover Image





ACCESS THE STUDENT COUNCIL NEWSLETTER

ACCESS NEWSLETTER ARCHIVES

DOWNLOAD THE PDF

Copyright © 2008
International Society for
Computational Biology.
All rights reserved.
In Memory of Kamalakar-Rao Mettani

By Edna Nerona, ISCB Webmaster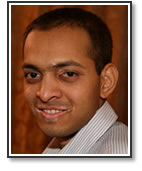 In February 2008, just weeks before the initially scheduled launch of the new ISCB website, we were saddened to learn that we lost a valued member of our web development team, Kamalakar-Rao Mettani. Kamal, from Secundrabad, India, was 31 years old and had just finished his Master of Science (M.Sc.) degree at the University of Applied Science Heidelberg, in the department of Computer Science.

His thesis presented a thorough study of the ISCB website and a detailed proposal to increase member benefits by allowing for greater web-based community interactions. In the process he attended ISMB/ECCB 2007 in Vienna, Austria, for the express purpose of meeting face-to-face with members and elected leaders of ISCB to assess member satisfaction and uncover needs that could be fulfilled through an interactive web portal. Kamal received the university's distinguished honor of Best Master of Science Thesis in 2007 for his work on behalf of ISCB. Ultimately, Kamal and his thesis were instrumental to the redevelopment of the ISCB web site into a true web portal. For several months after receiving his degree, right up until the time of his sudden death, he worked with the ISCB staff and leadership to implement his plan. As you look through the new layout and functionality, please know that Kamal's energy and talents are the inspiration for every part of the code and design.

We are all proud to have worked with someone who was as bright, conscientious and professional as Kamal; he is missed dearly by all who knew him. We are especially grateful to his family for having nurtured and supported him throughout his education, helping him to develop into the gentle, dedicated and inspirational being he had become.

Therefore, as ISCB launches its new web presence, we dedicate the new www.iscb.org to Kamalakar-Rao Mettani.