{ C O N T E N T S }
Volume 11, Issue 1
ISCB Honors
David Haussler
& Aviv Regev
The ISMB Organization
& Future Vision
PLoS Computational Biology Overview
11th Israeli Bioinformatics
Symposium Report
Taking a Stand on Software Sharing
ISCB Members Speak Out on US Entry Visa Issues
ISCB's New Software
Sharing Statement
MentorNet Report Card: Year Two
In Memory of
Kamalakar-Rao Mettani
Cover Image





ACCESS THE STUDENT COUNCIL NEWSLETTER

ACCESS NEWSLETTER ARCHIVES

DOWNLOAD THE PDF

Copyright © 2008
International Society for
Computational Biology.
All rights reserved.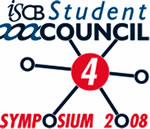 4th ISCB Student Council Symposium

Now in its 4th year the ISCB Student Council Symposium (SCS4) has again made an impact in the Computational Biology community: Around 100 student delegates registered for the July 18th event in Toronto where ISCB President Burkhard Rost, Mark Gerstein and Timothy Hughes delivered the keynote addresses. The students also listened to presentations by nine of their peers, who had been selected based on the outstanding quality of their submitted abstracts. The program was complemented by a panel discussion on "Career paths in Computational Biology and Bioinformatics" followed by a poster session and reception.

SCS4 conference chairs Lucia Peixoto and Amr Abuzeid and their team had raised almost $17,500 from sponsors, which allowed the Student Council to support seven top students with travel fellowships worth $1,000 each. More than 40 applications for these travel fellowships had been submitted.

The SCS4 program committee led by Sarath Chandra Janga reviewed a total of 75 submissions for the symposium. The organizers were very pleased with the quality of the submitted abstracts, which has been increasing consistently over the last few years. A selection of outstanding abstracts will be published as a supplement to BMC Bioinformatics along with a meeting report. More information about the event can be found on http://symposium.iscbsc.org.