{ C O N T E N T S }
Volume 7, Issue 4
President's Letter
A Year in Review
ISCB Membership
2005 Registration Now Open
PSB 2005
ISCB Open Meeting Planned

ISMB 2005
Save the Date!
Special Interest Groups
Reports from ISMB/ECCB 2004
Travel Fellowships
Student & Post Doc Awards
ISCB Student Council
Our Vision, Our Future
Public Affairs and Policies
Committee Update
New Board Members
Take Office January 2005
University of British Columbia
Genetics Graduate Program Retreat
Marketing Opportunities
Advertising & Corporate Memberships
MidSouth Comp Bio & Bioinformatics Society
Recap of the 2nd Annual Meeting
Events and Opportunities
Bioinformatics Events Worldwide
Copyright © 2004 International Society for Computational Biology. All rights reserved.
A Note From ISCB President Michael Gribskov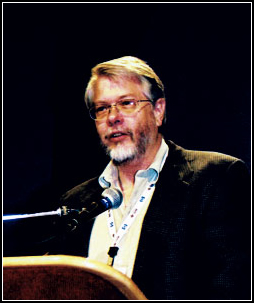 With this winter newsletter of 2004-2005 I am preparing to embark on my second term as ISCB's President. These past two years have included an equal measure of challenge and reward for me and for the Society, and I am continually proud of the personal commitment I see on a daily basis from fellow board and committee members, our small but effective staff, and so many of our members around the world.

As 2004 draws to a close, I am very pleased to report ISCB experienced its highest membership year ever at almost 2000 individual members, including 850 student/trainee members. Attendance at ISMB/ECCB 2004 was also the highest in the history of either conference, welcoming over 2100 delegates to Glasgow, Scotland. Both of these accomplishments helped further stabilize the Society's finances and we can now look to develop some new member benefits for 2005 in line with the strategic priorities outlined in the 2003-2006 Strategic Plan.

Last year at this time I wrote that our goals were "to continue to grow as an international organization and enable our members to network, build collaborations and affiliations, stay informed of advances and opportunities in the field, and share in a common voice toward advancing the worldwide understanding of computational biology." This is a solid future vision and I encourage the participation of all members to help make it a reality in the years ahead. To continue our momentum toward these goals I have recently appointed Barbara Bryant, ISCB Vice President Elect, to the position of Public Affairs & Policies Committee Chair, replacing Peter Karp who has stepped aside as he winds down his board term. I am also in the process of appointing a new Publications Committee Chair to replace Phil Bourne who has resigned to take on a very exciting new venture on behalf of the Society (more on that in the next newsletter), and will soon appoint a new Affiliates & Special Interest Groups Committee Chair to replace Anna Tramontano who has recently resigned from that post. Personally, I remain committed to strengthening our ties and increasing the value of interactions with affiliated regional groups that serve memberships within defined geographic areas, and I see these three appointments as critical to the success of that commitment.

At this time I would like to recognize a number of our board members whose terms are coming to an end in January 2005. Russ Altman (President 2000-2002), Peter Karp (Public Affairs & Policies Chair 2002-2004), and Teri Klein (Treasurer 2000-2002) have all served on the board since the Society's founding in 1997. Soren Brunak (ISMB 2001 Conference Chair), Winston Hide (Education Committee co-Chair until 2004), Tandy Warnow, and Mike Waterman have all also served the board since 2002. For her service as ISCB Vice President during the last three years, I would especially like to acknowledge Anna Tramontano. Although her board term does not expire until 2006, her two terms on the ISCB Executive Committee is ending, and I know I speak on the full committee's behalf when I say we will miss her colorful personality in our discussions and her to-the-point perspectives in our decision making.

We are honored by the service of so many, and each year I ask all of our members and colleagues to think about what you would like the ISCB to be and what you could do to help. This is an open invitation to get involved at any time – just write to admin@iscb.org and we will gladly sign you up!