{ C O N T E N T S }
Volume 8, Issue 3

Rost To Become
Next ISCB President
Rocky'05 Bioinformatics
Conference Colorado
in December
Update on
PLoS Computational Biology

Putting Students
in the Spotlight
Call for 2006
Awards Nominations

ISMB 2006 in Brazil
New ISCB Membership Site
Now Open
ISMB 2006
Call for Tutorials

RECOMB 2006 Registration Opening This Week
ISMB 2005 SIGs Recap

Israeli Bioinformatics Symposium 2005
A Prelude to ECCB'06

Advertising & Corporate Membership Opportunities

Post Your News, Events
and Degree Programs
on ISCB Website

Upcoming Events
& Conferences

News from the Field
Acknowledgements and Contributors

ACCESS NEWSLETTER ARCHIVES

DOWNLOAD THE PDF
Copyright © 2005 International Society for Computational Biology.
All rights reserved.
President's Letter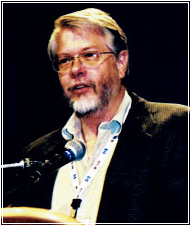 Dear Members:

I am happy to report that the ISMB meeting in Detroit was an outstanding success. I thank David States, Brian Athey, and the rest of the organizers for their efforts – everything went smoothly and the quality of the presentations and posters was excellent. Apparently some of our members thought that Detroit might not be a pleasant site for a meeting – I am happy to say that they were wrong – the Renaissance Center proved to be a great venue and close to a nice selection of restaurants. The total number of attendees was 1754 – this is very good although somewhat lower than as some meetings in the past (Edmonton '02; Glasgow '04), but still quite respectable. The financial figures are now in, and ISMB 2005 has contributed approximately $180,000 to the ISCB operating budget. As the principle revenue source for the Society, this will enable the office and elected leaders to continue to provide services and benefits to our members worldwide. As you know, the ISMB 2006 will be held in Fortaleza, Brazil, and will be held in conjunction with a conference celebrating the Swiss-Prot 20th anniversary. Please begin making your plans now so that you can attend – it will be a once in a lifetime experience.
The election for the next ISCB president has now been completed and the votes tallied. We had four strong and qualified candidates Barbara Bryant, Shoba Ranganathan, David Rocke, and Burkhard Rost. Each and every one of these candidates has contributed enormously to ISCB, and I would have been happy to see any one of them elected. The election was very close, with Burkhard winning by a hair (complete results elsewhere in this issue). I congratulate all four candidates on their willingness to take up a significant burden for little reward; I hope that the unsuccessful candidates will continue to work to help ISCB prosper and grow. Burkhard will now serve for one year as president-elect and take over as president in January 2007 (I can hardly wait).
Many changes were made at the board meeting this year including changes to many of the committee chairs. This new blood will reinvigorate our committees – now is a good time to step forward if you would like to join in serving on one of the standing committees: Conferences, Education, Finance, Governance, Publications, Public Affairs and Policies, or Affiliates and SIGs. Please send email to the ISCB office (admin@iscb.org) or to the chair of any committee that interests you (see the committees' web page at www.iscb.org/committees).
In the near future I hope to be able to report significant changes in the way ISCB relates to affiliated societies, SIGs, and other organized group. Among the possibilities being considered are simplified processes for the formation of SIGs, formation of local ISCB chapters, and methods by which members of national society could easily and affordably become full ISCB members.
Finally, let me close with an exhortation. I believe that ISCB is a place where scientists whose work crosses the line dividing computation and biology can meet and exchange ideas. I hope that you will join me in asking your colleagues whether they are members, and in encouraging them to join. While our current membership is about 1850, it could be much higher – and with greater membership our ability to achieve our goals in education, public policy, conferences, workshops, outreach and other areas will improve. Our new membership registration site has just opened, with memberships now good for 12 months rather than tied to the calendar year as was previously the case. So, join or renew now and promote the same to your colleagues and peers. Further, I encourage you to speak up, loudly and often, if you do not feel that ISCB is going in the direction you want it to. We are striving for excellence in all areas.