{ C O N T E N T S }
Volume 9, Issue 2

Announcing ISMB/ECCB 2007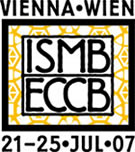 The board of directors of the International Society for Computational Biology, together with the steering committee of the European Conference on Computational Biology, take great pleasure in announcing ISMB/ECCB 2007 -- a joint conference to be held in Vienna, Austria, July 21-25.

Bringing together over 2000 inter-disciplinary, international scientists from the fields of computer science, molecular biology, mathematics and statistics, ISMB/ECCB 2007 will focus on the development and application of advanced computational methods for biological problems. The Austria Center will serve as the conference venue, providing extensive opportunities for multiple tracks and an unparalleled scientific learning, exchange, networking and collaborative environment.

ISMB/ECCB 2007 will be organized under the chairmanship of Thomas Lengauer, Max-Planck Institute for Informatics, together with Burkhard Rost, Columbia University, and Peter Schuster, Universität Wien, serving as conference co-chairs.
For further details please sign up for updates at
www.iscb.org/ismbeccb2007, or write to info07@ismbconf.org.
We will count on seeing you there!