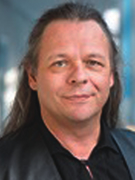 2016 Outstanding
Contribution to ISCB
Burkhard Rost
2016 Outstanding Contribution to ISCB: 
Burkhard Rost
---
The Outstanding Contributions to ISCB Award was launched in 2015 to recognize individuals who have made lasting and valuable contributions to the Society through their leadership, service, and educational work, or a combination of these areas. Burkhard Rost is the 2016 winner of the Outstanding Contributions to ISCB Award and will be recognized at the 2016 Intelligent Systems for Molecular Biology (ISMB) meeting in Orlando, Florida on July 8-12, 2016.
Rost is the Alexander von Humboldt Professor and chair of bioinformatics and computational biology at the Technical University Munich. His research interests focus on using machine learning and artificial intelligence to predict the structures and functions of proteins and genes. Rost has served ISCB in numerous positions throughout his career, including being co-chair of the largest annual meeting in computational biology, Intelligent Systems in Molecular Biology (ISMB), during 2007 (Vienna), 2008 (Toronto), 2011 (Vienna), 2012 (Long Beach), and 2013 (Berlin).

Rost served as ISCB president from 2007-2014. When he assumed the leadership position, the Society was in financial turmoil. He recalled, "All I wanted to do was clean up," and sought out colleagues who would help steer ISCB in their right direction through their leadership roles on the Executive Committee and the Board of Directors, and as committee chairs. He attributes the flourishing of ISCB under his leadership to these colleagues and said, "I have found a way to motivate the people who are passionate about what they do. I can motivate people and I found the right people."

Rost strove to broaden the international reach of ISCB beyond Europe and the United States and said, "We wanted ISCB to have conferences in many places, outside the realm of what we typically do. I believe we found a way of making it sustainable." During Rost's term as president, he led the effort to organize several international meetings in Africa, Asia, and Latin America. These truly international meetings included ISCB Africa (2010: Bamako, Mali; 2011: Cape Town, South Africa; 2013: Tunis, Tunisia; 2015: Dar es Salaam, Tanzania) in cooperation with the African Society for Computational Biology and Bioinformatics (ASBCB), ISCB Latin America (2010: Montevideo, Uruguay; 2012: Santiago de Chile, Chile; 2014: Belo Horizonte, Brazil), and most recently ISCB Asia (2011: Kuala Lumpur, Malaysia; 2012: Shen Zhen, China; 2013: Seoul, South Korea). ISCB continues to organize these international meetings and is developing other virtual platforms, like ISCBconnect, to help ISCB members from around the globe connect with each other outside the confines of a conference.

Rost wanted to find ways for students and trainees to become involved with ISCB in a meaningful way and helped advocate for and support the ISCB Student Council (ISCB SC). The ISCB SC has blossomed since its inception in 2004, and student members organize and manage the SC's year round activities including scientific events, networking opportu- nities, soft-skills training, educational resources and career advice.The ISCB SC hosts a popular annual symposium at ISMB and has become the voice of the rising generation of computational biologists. Rost said, "Young people see ISCB as a society that does something and they are more active than ever before."

Rost was concerned about the lack of diversity in ISCB's leadership at the beginning of his term and focused on getting more women on the Executive Committee (EC) because he believed diversity is essential for the success of "how important decisions are made." Now women hold many leadership roles across ISCB and are being honored in growing numbers for the scientific contributions to computational biology through ISCB awards and recognition as ISCB Fellows.

Rost will be remembered as one of ISCB's most devoted presidents through his tireless service to connect the international computational biology community through multiple platforms and being a strong united voice for a very broad field. He will continue to support the ISCB community as a past-president and lifetime ISCB member.
---