Social Events
Discover Dublin – Orienteering Ice Breaker Event


Friday, July 10, 2015

Event Cost: €15.00

Event sign-in: 6:30 – 7:00 p.m. at Conference Information Desk, Convention Center Dublin (Entrance Lobby)

Event begins: 7:00 p.m. Convention Center Dublin (Entrance Lobby)
 (approximately 90 minutes in length)


Dress code: Walking or hiking shoes, appropriate outdoor gear for the weather.
 
The annual orienteering ice breaker will provide delegates with a fun-filled 90 minutes exploring one of Europe's most beautiful cities and provides a chance to meet friends – new and old! Gain an insight into and knowledge of Dublin's famous landmarks and hotspots and interact with Dublin's locals – famed for their friendly and warm welcome. Ready, steady, go.
 
Format
Meet and Greet
Teams are formed and the facilitators brief the group.
Challenge booklets are distributed. The booklets contain questions, tasks and challenges to be completed by the groups.

Directions, maps and images within booklets will lead participants to Dublin's most famous and interesting landmarks such as Dublin's Castle, Trinity College, Government buildings, the Temple Bar cultural quarter, U2 sites, James Joyce sites and more.

At each of the landmarks groups will learn a fun historical anecdote and will be instructed to carry out a task or a challenge. Examples of the tasks/challenges are:
Discovering a notorious superstition or the location of a valuable treasure within Trinity College.
Answering skill-testing questions on features of historical buildings centuries old.
Attempting Gaelic sport maneuvers.
Group activity by James Joyce's Ulysses 'chemist' featured within the novel or by Oscar Wilde's childhood home.
Performing a U2 song by one of the band's legendary sites or pose for a photo imitating a famous picture of the band.
And much more…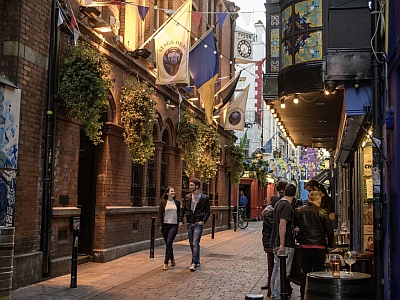 Conference Reception at the Guinness Storehouse
Monday, July 13                7:30 pm – 10:30 pm
Location: Guinness Storehouse
St. James's Gate, Dublin 8, Ireland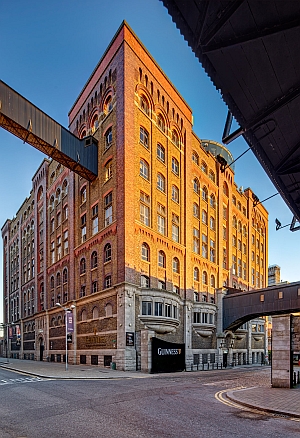 Click To download a Map


*Cost: €25.00   Includes entrance, light reception style dinner and one complimentary pint of world famous Guinness (or wine or soft drink).
Please note transportation is not provided to attend this event. The walk time from the Convention Centre Dublin is approximately 30-35 minutes. Other options include public transit or taxi.
Join conference attendees at the Historic Guinness Storehouse. Constructed between 1902 and 1904 by Arthur Guinness Son & Co. Ltd for use as a fermentation house. Standing 125 feet high, 170 feet long and 151 feet wide it is reputedly the first steel framed building in the British Isles to be built in the Chicago style. Now a Dublin landmark capturing the history of the Guinness and one of the best views in Dublin from the Gravity Bar.
*Ticket purchase available until June 26 (close of on-line registration) at: https://www.iscbconferences.org/CONFERENCES/ISMBECCB-2015/
Learn more about the historic Guinness Storehouse at http://www.guinness-storehouse.com/en/Index.aspx
Fun Facts
It would take 14.3 million pints to fill the giant glass atrium in the centre of the Guinness Storehouse building.
Gravity Bar is the highest bar in Dublin located 46 metres off the ground.
St. James's Gate at the entrance to the Guinness brewery in Dublin was once the start of a pilgrimage to Compostella in Spain and pilgrims from all over Ireland used to gather on this site to start the journey to Spain.
3 million pints of Guinness are brewed every day at the St James's Gate brewery.
St. James's Gate Brewery is the biggest stout export brewery in the world.
The St. James's Gate Brewery is one of the most technologically advanced breweries in the world.
There is approximately 198 calories in a pint of Guinness - less than a pint of orange juice!
Guinness is the biggest selling stout in the world with 10 million glasses being sold everyday in 150 countries
The ancient Irish Harp symbol was firstly used as a symbol for Guinness and only later adopted by the Irish Government as the official Government symbol.