Why Exhibit?
ISMB/ECCB 2015 attracts top international scientists and key decision makers in the life sciences – experts in areas such as computer science, molecular biology and medicine, mathematics and statistics – from the world's largest and most prestigious research institutions and companies.

With over 200 talks spanning 14 different topic areas, as well as 800 posters, ISMB/ECCB is the premier, worldwide event in computational biology and bioinformatics. The conference is the place to present breakthrough results, hear from the top scientists, and discover new developments at the leading edge of bioinformatics. For sponsors and exhibitors, ISMB/ECCB is the place to meet face-to-face with potential clients, uncover new trends in research and development, and connect with the bioinformatics community.
 
Showcase your latest product, service or solution to international experts in:
Computational Biology
Bioinformatics
Molecular Biology
Next Generation Sequencing
Personalized Medicine & Drug Discovery
Systems Biology



Who Attends ISMB?
Researchers from over 45 countries gather each year to present research, attend scientific sessions, and network with colleagues.
95% of attendees are involved in product purchasing decisions and product recommendations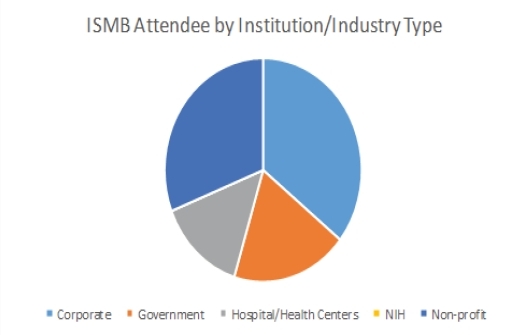 Over 70% of meeting attendees visit the exhibit hall over the course of 3 days
Top 3 Reasons Attendees Visit Exhibit Hall:
ability to see new technologies
ability to speak with company experts
ability to interact with new products
We look forward to your participation in Dublin!

To confirm your sponsorship or for additional information contact:
Steven Leard, ISCB Conferences Director
This email address is being protected from spambots. You need JavaScript enabled to view it. 
Tel: +1 780-414-1663