ISCB Art in Science Competition
---
ANNOUNCING THE 2018 WINNERS!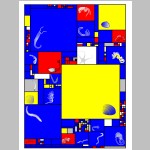 FIRST PRIZE
Ruth Callaway, Swansea University, Biosciences, United Kingdom

Mondrian's Sum of Squares








---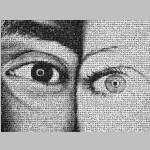 SECOND PRIZE
Alaa Abi Haidar, University of Pierre and Marie Curie

dEYEversity








---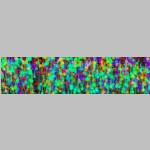 THIRD PRIZE
Marwan Abdellah, École polytechnique fédérale de Lausanne (EPFL)

In Silico Brainbow

---
 2017 WINNERS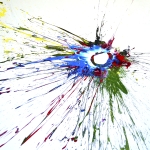 Nick Schurch, University of Dundee
Chris Cole, University of Dundee, United Kingdom

ImpactFactor








---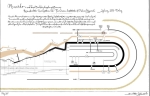 Benedetta Frida Baldi, The Garvan Institute of Medical Research

Minard->o: how Napoleon marched into phosphoproteomic data





---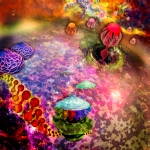 Aviad Sivan, Bar Ilan University

Invasion





- Click here for more information about the 2017 winners -

---
SUBMIT TO THE 2018 ART IN SCIENCE COMPETITION
— Deadline: June 23, 2018

Computational Biology and Bioinformatics brings together scientists from a wide range of disciplines, including biology, medicine, computer science, mathematics and statistics. In these fields we are constantly dealing with information in visual form: from microscope images and photographs of gels to scatter plots, network graphs and phylogenetic trees, structural formulae and protein models to flow diagrams, visual aids for problem-solving are omnipresent.

The ISCB Art in Science Competition is a way to show the beauty of science in art form. Past work sumitted to this annual exhibition at ISMB combines outstanding beauty and aesthetics with deep insight that perfectly proves the validity of our approach or goes beyond the problem's solution. Others were surprising and inspiring through the transition from science to art, opening our eyes and minds to reflect on the work that we are undertaking.

ISCB invites submission to the 2018 ISCB Art in Science competition. All interested members (hereafter referred to as "artists") may submit images that have been generated as part of a research project and other creative efforts that involve scientific concepts or employ scientific tools and methods.

Submissions will be reviewed by a panel of judges. All submissions will be invited to ISMB 2018 in Chicago Illinois, USA, to display their work. The winning submission will be announced during the ISCB Town Hall and presented with a $200 USD prize, as well as be the feature cover image for the ISCB Fall Newsletter.

Submission Guidelines
An artist can be an individual or a group of individuals. Space for physical presentation of images is limited and will be assigned on a first-come first-served basis. *Please note only submissions that do not require Audio Visual support will be accepted.
Online submission system

Content
The artwork may deal with any theme in science but the organizers are particularly interested in work that is reflecting on topics related to Computational and Molecular Biology. While artistic freedom is important, the nature of the event requires certain restrictions on the content of the artwork. Artwork that contains sexual, political or religious themes cannot be accepted into the exhibition and will be rejected. Works created for commercial purposes will also be rejected.

Materials
The final artwork has to be submitted for review before the deadline through the online submission system, and is to include a brief description (150 words) describing the piece.

Images to be presented in physical form must be smaller than 43 x 43 (109.2 cm x 109.2 cm). They must not be deeper than 0.5 (1.2 cm) and must be attachable to a poster board using push pins or velcro.

The organizers recommend to leave a sufficiently wide border around the artwork and to carefully consider the size of photos and the amount of detail included in images. All images must be submitted in their final form and resolution.

In case of images employing non-digital media a high-resolution digital photo of the artwork has to be submitted. Images can be submitted in PNG, JPEG, GIF, TIFF or PDF format. The file size must not exceed 25 MB.

Accepted works must be provided by the artist for inclusion of the show. (The conference organizers will not print the art works)

Review
All submitted artwork will be reviewed for compliance with content restrictions as well as technical requirements. Artwork out of compliance will be rejected. ISCB reserves the right to reject artwork for any reasons.

A panel of judges will review the artwork, selecting the top images for award.

Copyrights and Permissions
The artist must be holding the copyrights for all parts of the artwork or have permission from the copyright holders to use their works. Copyright holders other than the artist must be attributed accordingly in the abstract accompanying the artwork.

By submitting artwork to the Art in Science competition, the artist gives permission to the International Society for Computational Biology (ISCB) to display this work and reproductions thereof during the conference and in materials associated with this and future ISCB events, such as program booklets, (electronic) newsletters, promotional brochures and websites.
---