BIOINFORMATICS JOURNAL UPDATE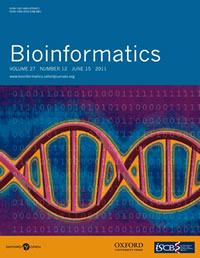 2012 is set to be an important transition year for Bioinformatics. After an 8 year term, Executive Editor Alex Bateman has decided to step down from his journal role at the end of 2012. Working together Alex and Alfonso Valencia have achieved a tremendous amount on behalf of Bioinformatics during this time--we and the journal will miss him. We are busy working to appoint Alex's successor to lead the journal alongside Alfonso from 2013--look out for news later in the year.

Once again we received around 2000 submissions in 2011--the efforts of around 3000 reviewers and our editorial team led us to accept ~30% of these, with an average time from submission to first decision of 30 days. We were very pleased to welcome Michael Brudno to the Associate Editor team last November, and more recently Inanc Birol has joined the team bringing further expertise in genome sequencing and analysis. We would like thank David Rocke and John Quackenbush for their hard work as Associate Editors for the journal over many years, and we are delighted that they have both joined the Editorial Board.

In 2012 we're continuing our sponsorship of the high-throughput sequencing (HiTSeq) SIG at the ISMB. Look out for our latest special collection of sequencing papers distributed at the meeting. Last year's award winners for the best papers at this event were:
Andrew McPherson 'Comrad: detection of expressed rearrangements by integrated analysis of RNA-Seq and low
coverage genome sequence data'
Christian Rödelsperger and Peter N. Robinson 'Identity-By-Descent Filtering of Exome Sequence data for Disease-Gene
Identification in Autosomal Recessive Disorders'
We'll be publishing further conference sections in the future, including of course the 2012 ISMB and ECCB proceedings.

In case you missed them, above are the top 5 accessed articles published in the journal in 2011. At the time of writing the 2011 impact factors have not been announced but based on our own citation analysis we are hoping to see Bioinformatics' impact factor increase this year.

As ever, we welcome any comments or feedback on any aspect of the journal - please do not hesitate to get in touch with us (bioinformatics.editorialoffice@oup.com).

With best wishes,
The Bioinformatics Editorial team

TOP