PLoS COMPUTATIONAL OVERVIEW

By Rosemary Dickin, Editorial Manager, PLoS Computational Biology

2011-2012 has seen steady growth for PLoS Computational Biology, with submissions up 22% since last year, and an average of 36 new Research Articles published each month. While the publication of the highest quality research remains the journal's main focus, PLoS Computational Biology also aims to move beyond the boundaries of traditional publishing and to engage our readership.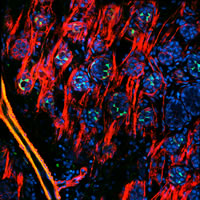 Stem cells in small intestinal crypts.
Image Credit: Paul Appleton, doi:10.1371/journal.pcbi.1002515
Our latest initiative, Topic Pages, makes full use of PLoS' open access license to bridge the gap between traditional journal articles and Wikipedia. "Circular permutation in proteins" (1), a review-style article with an innovative twist, was published in March 2012. The article had been drafted and openly reviewed in a wiki setting and, upon publication, a copy was placed on Wikipedia to undergo the usual edits seen in any other article on the site. The PLoS article remains the 'version of record' while Wikipedia gains high-quality content; more information about this project can be found in (2).

Our Education section has continued to flourish, in part because of the journal's relationship with the ISCB. Last year we introduced a collection, Bioinformatics: Starting Early, which takes the notion of biology as a computational science into high schools. 2012 will also see the conclusion of our series of mini-reviews, Editors' Outlook. Launched last summer, this collection broaches subjects from genome organization to experimental neuroscience. They speak to the breadth of our field and editorial board, and collectively will form a vision from our many expert editors of what is being, and will be, accomplished in the coming years.PLoS Computational Biology is grateful for the contributions made by many members of the community - including 146 Guest Editors and 1985 reviewers in 2011 (3). To accommodate the increasing number of submissions to the journal we have introduced several new additions to the Editorial Board in the last 12 months: Associate Editors Marcel Salathé, Teresa Przytycka and Niko Beerenwinkel, and Topic Pages Editor Daniel Mietchen. Douglas Lauffenburger and Konrad Körding also took on more senior roles at the journal as Deputy Editors.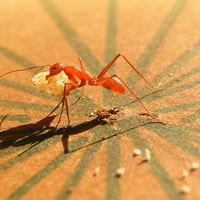 An Australian desert ant deciding
which way is home. Image Credit:
Antoine Wystrach doi:10.1371
/journal.pcbi.1002336
PLoS Computational Biology is a 'Community Journal'; we value your ideas and comments, so please don't hesitate to get in touch in person at ISMB or via ploscompbiol@plos.org any time.
Examples of Highly Downloaded Articles 2011-2012
Cytoskeletal Signaling: Is Memory Encoded in Microtubule Lattices by CaMKII Phosphorylation? Craddock TJA, Tuszynski JA, Hameroff S (2012)

PLoS Comput Biol

8(3):1002421.doi:10.1371/
journal.pcbi.1002421
Most Random Gene Expression Signatures Are Significantly Associated with Breast Cancer Outcome. Venet D, Dumont JE, Detours V (2011)

PLoS Comput Biol

7(10):e1002240. doi:10.1371/journal.pcbi.1002240
Using Electronic Patient Records to Discover Disease Correlations and Stratify Patient Cohorts. Roque FS, Jensen PB, Schmock H, Dalgaard M, Andreatta M, et al. (2011)

PLoS Comput Biol

7(8): e1002141.doi:10.1371/journal.pcbi.1002141
Effect of Promoter Architecture on the Cell-to-Cell Variability in Gene Expression. Sanchez A, Garcia HG, Jones D, Phillips R, Kondev J (2011)

PLoS Comput Biol

7(3):e1001100. doi:10.1371/journal.pcbi.1001100

References
1. Circular Permutation in Proteins. Bliven S, Prlić A. 2012, PLoS Comput Biol, 8(3) e1002445. doi:10.1371/journal.pcbi.1002445, p. 8(3):e1002445. doi:10.1371/journal.pcbi.1002445.
2. Topic Pages: PLoS Computational Biology Meets Wikipedia. Wodak SJ, Mietchen D, Collings AM, Russell RB, Bourne PE. 2012, PLoS Comput Biol, 8(3): e1002446. doi:10.1371/journal.pcbi.1002446.