NIGMS CELEBRATES 50 YEARS

What is NIGMS?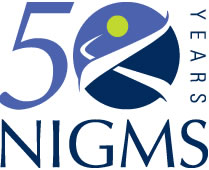 Established in 1962, The National Institute of General Medical Sciences (NIGMS) is one of 27 separate Institutes and Centers of the National Institutes of Health (NIH) in the U.S. Department of Health and Human Services. For 50 years NIGMS has supported basic research and training to help increase our understanding of living systems and to lay the foundation for advances in disease diagnosis, treatment and prevention.

Currently NIGMS funds approximately 4,700 research grants and supports over 4,300 trainees (26% of all trainees receiving assistance from NIH). Furthermore, by 2010, NIGMS had already funded the Nobel Prize-winning research of 74 scientists.

50th Anniversary!
On May 16th the NIGMS' 50th anniversary was honored by the Federation of American Societies for Experimental Biology (FASEB) at a joint celebration on Capitol Hill in Washington, DC, hosted by FASEB as part of their yearlong centennial celebration. The event was attended by over 200 people, including ISCB board member Judith Blake, members of the U.S. Congress, NIH Director Dr. Francis Collins, Acting NIGMS Director Dr. Judith Greenberg, NIGMS alumni, science reporters, representatives from research advocacy organizations and patient groups, and many more. Presentations highlighted advances in biomedical research that have been achieved over the last 50 - 100 years as a result of the federal government's investment in NIGMS and basic research, and three Nobel Laureates reflected on the impact that early funding from NIGMS had on their careers.

During its 50th anniversary year NIGMS is supporting special lectures, symposia, and sessions at the annual meetings of ten scientific societies, and poster awards at another six. At ISMB be sure to attend the special session "Celebrating Science Together: ISMB 20 Years and NIGMS 50th Anniversary Special Session," July 16th, from 2:30-4:25 p.m. The session has been organized by Steven Brenner, University of California, Berkeley, and includes presentations by notable NIGMS-funded researchers, with a special presentation by Peter Lyster, program director for the NIGMS Division of Biomedical Technology, Bioinformatics, and Computational Biology.

NIGMS is also hosting the following anniversary activities:
NIGMS Fun Facts:

In 1962 the average R01 (an investigator initiated research grant) was 22,810 USD (actual dollars, not adjusted for inflation). The average R01 is today 343,847 USD.

In 1974 NIGMS was the first NIH institute to have a female director, and she later served as acting director of NIH -- twice! The National Research Service Award Program also bears her name. Who was she? Dr. Ruth Kirschstein served as NIGMS director from 1974 to 1993, and as acting director of NIH in 1993 and again from 2000-2002. Read all about her at www.nlm.nih.gov/locallegends/Biographies/Kirschstein_Ruth.html

In 2011 NIGMS received its 100,000th grant application. Then director Jeremy Berg announced on the NIGMS Feedback Loop blog, "We just reached a milestone---our 100,000th grant application.

Interestingly, it's for a K99/R00 (Pathway to Independence) award. This program enables promising postdoctoral scientists to receive mentored---and later independent---research support. Given our strong commitment to research training, mentoring and workforce development, it's somehow fitting that this application is for a program that addresses these needs." The full post is available at
https://loop.nigms.nih.gov/index.php/2011/02/25/milestone-grant-application/

If you knew these three fun facts you really know your NIGMS! The director position for this Institute is open once again -- perhaps you should apply!


TOP