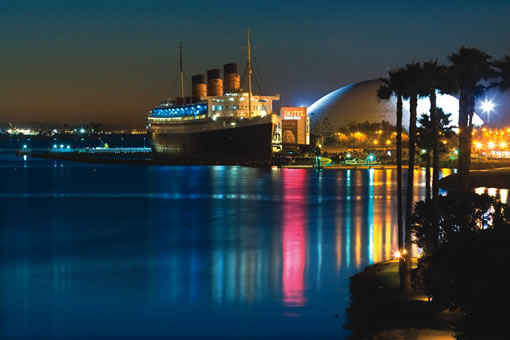 The Queen Mary Luxury Cruise Liner is a historical landmark docked in Long Beach, California. On May 27, 1937, the Queen Mary departed from Southampton, England to embark on her maiden voyage. At that time, she was considered an innovative marvel, the pinnacle of luxury, and the model of Art Deco style. Some of the attractions included original art murals, paintings, sculptures. Over 50 different types of woods from all over the world were used to decorate the ship inside and out, giving the liner the nickname, Ship of Woods. British Royalty, Hollywood celebrities and dignitaries enjoyed five dining areas and lounges, two cocktail bars and swimming pools, a grand ballroom, a squash court, and even a small hospital.
When World War II started, the Queen Mary was transformed into a military troopship. Interestingly, Patrick Joseph Morrison, the late father of ISCB's Executive Officer BJ Morrison McKay, was among the soldiers transported to the war in Europe this way. But he never saw the ship in all her glory --the luxurious amenities were removed and she was painted grey, dubbing her the Grey Ghost.
During her rich history, the Queen Mary made 1001 transatlantic voyages. In 1967 she was relocated to Long Beach, California. The liner is now a full-service hotel, historical landmark, and entertainment venue.
Source: www.queenmary.com

TOP