Update on Board efforts and membership benefits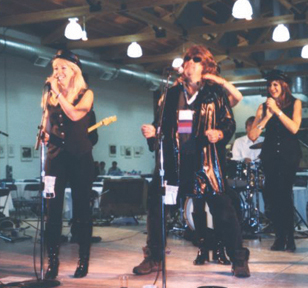 ISCB President Phil Bourne demands R-E-S-P-E-C-T
The ISCB Board of Directors meet by conference call every one to two months—depending on the amount of business to be discussed—and once per year at the ISMB meeting. These are busy times for the Board as the Society evolves very rapidly. To give you a flavor of what happens, the following transpired at our recent meeting:
Establishment of a Lifetime Achievement Award to be presented at the annual ISMB meeting.
Establishment of a policy for Board member participation.Establishment of a small membership fee increase for next year.
Suggest small changes to ISMB 2003's format.
Beyond these immediate changes a number of other initiatives are being discussed. We are contemplating an ISCB Book Series. Such a series would involve a series editor and a group of volume editors covering discrete areas within a bioinformatics graduate program. As one can imagine, this initiative is not something to be considered lightly. For the Society to stand behind such an effort, the Board must agree on the topic areas as well as recruit the best scientists in the field willing to commit to such an endeavor. There certainly is no shortage of publishers with an interest in taking on this project. I welcome comments on such an initiative.
We are also contemplating purchasing online access to back copies of ISMB Proceedings from 1993 to 2000 from The American Association for Artificial Intelligence (AAAI). The last two years have seen the Proceedings published as a supplement to Bioinformatics, available to members online. Whether this happens will likely depend on the cost to the Society—which is currently under negotiation. Again, I would like to hear from any members with thoughts on this matter.
To enhance our growing list of member benefits, the ISCB negotiated a special members' price for Comparative and Functional Genomics (CFG), published by John Wiley & Sons, Ltd. CFG covers research papers, reviews and features on all aspects of post-genomic research in man, animal models, plants, yeasts and bacteria. Topics of particular interest to ISCB members are the development and application of bioinformatics, evolutionary and comparative genomics, global profiling approaches (such as microarray and proteomics), large-scale mutagenesis and phenotyping, pharmacogenomics, and pharmacogenetics. For more information about CFG, visit www.interscience.wiley.com/jpages/1531-6912/.
Finally, the Society has negotiated the availability of four pages per issue of Bioinformatics. In general terms, we propose to publish immutable information in those pages as opposed to the more transient information that appears in this newsletter. This will include the Society by-laws, including any modifications, annual cash flow, motions passed by the Board, and a notice for ISMB. Again, your thoughts on what should be published here are welcome. Paper alerts and book reviews are two topics that come to my mind.
In short, I welcome input on any Society, matters at admin@iscb.org.