Update on Board efforts and membership benefits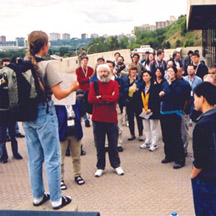 Barbara Bryant, ISCB secretary, leads the orienteering activity
The ISCB's official annual meeting, Intelligent Systems for Molecular Biology 2002 (ISMB), capped four days of scientific presentations and exhibits by recognizing outstanding achievements and contributions to the field of computational biology. With over 1500 attendees, 500 posters, and 50 podium presenters, the conference, held in Edmonton, Alberta, Canada from August 3rd to the 7th, 2002, was the largest held to date.
"Judging by all the positive comments and the overflowing audiences for presentations, ISMB 2002 was a great success," said ISCB president Phil Bourne. "This year's meeting added to the foundation of ISMB as the organizers of next year's conference begin planning for ISMB 2003 in Brisbane."
David Wishart, ISMB 2002 chair, opens the plenary sessions.
Attendees had a chance to hear talks by key figures in computational biology, to view hundreds of scientific posters, to attend software demos, and to participate in a number of Special Interest Group meetings and Birds of a Feather sessions. Along with the scientific presentations and the exchange of ideas, conference attendees were treated to a festive evening at Fort Edmonton, where the crowd toured the historic buildings, feasted on barbeque, and danced for hours.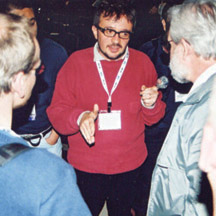 Pier Luigi Martelli, winner of the ISMB Best Paper by SGI discusses his research.
On the last day of the conference, the ISCB awarded the Overton Prize to David Baker, associate professor at the University of Washington and Howard Hughes Medical Institute Investigator. The SGI Best Paper Award was given to Pier Luigi Martelli of the University of Bologna, and ten posters won the SGI Best Poster Award (co-authors included Piero Fariselli, Anders Krogh, and Rita Casadio). The ISCB also provided a record 103 travel fellowships to graduate students and postdoctoral researchers through contributions from several sponsors and government agencies.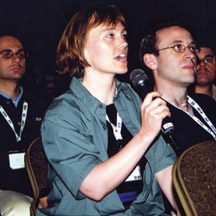 Dietlind Gerloff, ISMB board member, comments to a speaker.
ISMB 2002 highlighted the work of many outstanding researchers in such diverse areas as: machine learning, pattern recognition, knowledge representation, databases, combinatorics, stochastic modeling, string and graph algorithms, linguistic methods, robotics, constraint satisfaction, and parallel computation. Biological areas of interest include: protein structure, protein function, genomics, proteomics, molecular sequence analysis, evolution and phylogenetics, molecular interactions, molecular structure, gene expression, metabolic pathways, regulatory networks, developmental control, and systems biology.
According to ISMB 2002 Conference Chair David Wishart, 90 people took part in reviewing 207 papers for the program, and accepted 50. Over 60 volunteers helped to keep the conference running smoothly.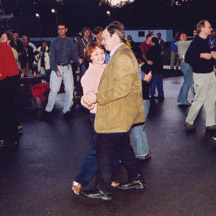 Delegates dance at the ISMB Banquet held at Fort Edmonton.
ISCB conference liaison Stephanie Hagstrom said, "I would like to thank the Platinum Sponsors of ISMB 2002, Hewlett Packard and IBM, and our Gold and silver sponsors. The conference would not be possible without the support of those companies."
In addition to serving as a forum for computational science, the ISCB held its annual public membership meeting and a meeting of the Board of Directors, where several new Directors were elected. The Board voted on a number of other issues, including the promotion of the Society's Administrative Officer to the position of Executive Officer.
Prospective attendees of ISMB 2003, to be held in Brisbane, Australia, from June 29 to July 3 can learn more about next year's conference at www.iscb.org/ismb2003/index.shtml.