Student Council Symposium (SCS6)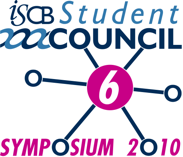 The 6th ISCB Student Council Symposium is a student-organized event featuring keynote lectures, oral presentations and a poster session. In addition to previous years, a career event will be organized with a variety of distinguished speakers from industry and academia. The Symposium is tailored mainly to undergraduate and graduate students as well as post-docs in computational biology and related disciplines. This is once again a unique opportunity to meet fellow students and researchers for networking and exchange of ideas in a great setting.

The Agenda is posted here.
Abstracts can be submitted through the ISCB submission system. Please follow the submission guidelines carefully as abstract that do not meet this requirements will be returned without review.


Deadlines
February 22, 2010
Symposium Submission Opens

April 30, 2010

Symposium Submission Closes
April 30, 2010
Student Council Travel Fellowship Deadline
May 14, 2010
Symposium Submission Acceptance Notifications
July 9, 2010
Student Council Symposium
Visual Reflections on Science


Annual Art & Science Exhibition
The Art and Science Exhibition, or also known as the Visual Reflections on Science, is an event organized by the ISCB Student Council, a student-led section of ISCB whose mission is the development of the next generation of computational biologists. Submission details are available here (http://www.iscb.org/ismb2010-submission-details/ismb2010-artandscienceexhibition)